Savory Bread Pudding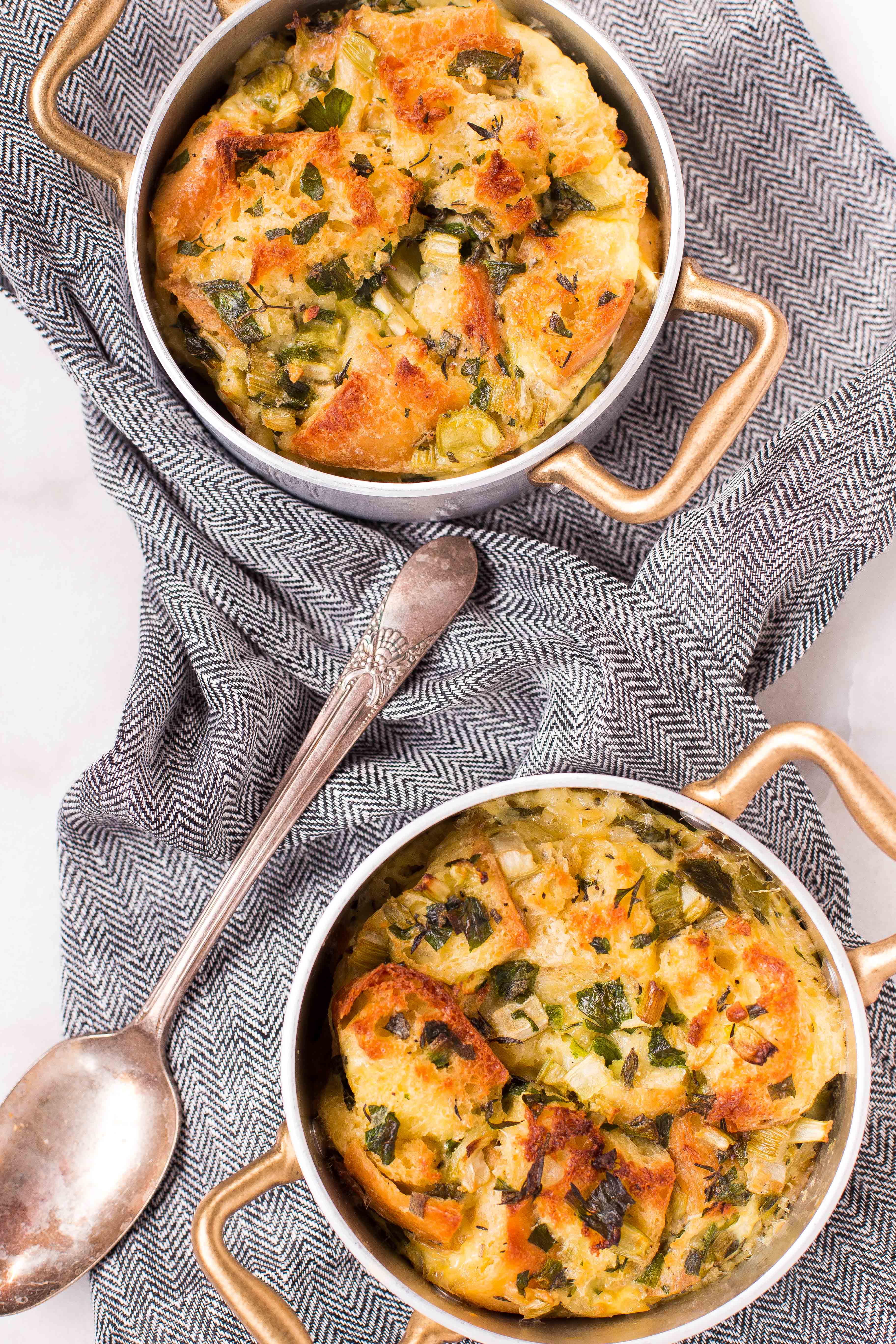 I really can't believe that Thanksgiving is next week. This Fall has flown by! The kids have been asking for a Christmas countdown since Halloween, so after next week – GAME ON. I'm seriously already craving Christmas lights all over my house – and I've been tempted on more than one occasion to put on some Christmas music. I know, I'm worse than they are. I also promised Gingerbread men this week – whoops. But first, Thanksgiving – and more importantly, this Savory Bread Pudding.
Consider this Savory Bread Pudding stuffing taken to the next level. I had only ever had sweet bread pudding but was always intrigued by a savory bread pudding. This one does not disappoint. It's crispy, rich and creamy and would be awesome with turkey or any other meat being served as a main course. The variety of fresh herbs flavor it perfectly and give it freshness and depth of flavor. If you're looking for an easy side dish to go with your Thanksgiving dinner that can be made in advance, this is a solid contender.
Next week I'm going to bring this as a counterpart to my sister's delicious Classic Stuffing – because, can you really ever have too many carbs on Thanksgiving?? Hope everyone has a wonderful Thanksgiving next week!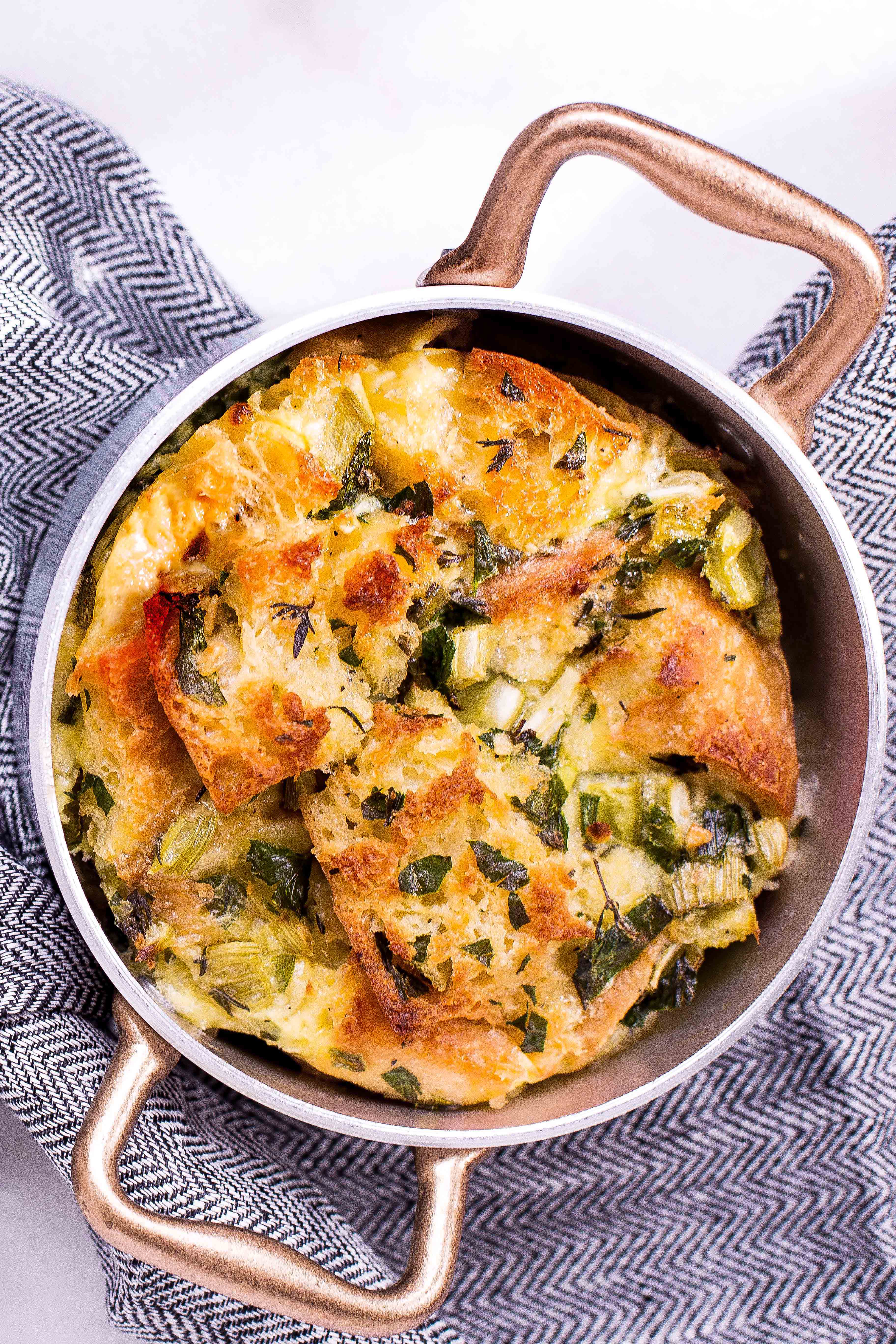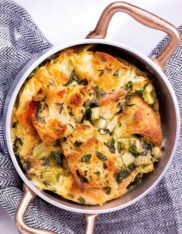 Savory Bread Pudding
Ingredients:
10 cups (approximately 1 large loaf) day-old bread (challah or French bread), cubed
1/2 cup fresh parsley, chopped
1/4 cup fresh sage, chopped
2 tbsp fresh thyme, chopped
4 tbsp unsalted butter, plus more for greasing the dish
4 stalks celery, finely chopped
3 garlic cloves, minced
1 large bunch scallions, finely chopped
6 large eggs, lightly beaten
2 cups chicken stock
2 cups heavy cream
Salt and pepper to taste
Directions:
Combine bread with parsley, sage and thyme in a large bowl.
Melt butter in a large skillet over medium heat and add the garlic and celery with a pinch of salt and cook until the celery is tender - about 10 minutes.
Add in the scallions and cook until tender but still bright green about 5 minutes.
Pour mixture into the bowl of bread and mix - allow to cool.
Preheat oven to 325°F and butter a 3-quart round baking dish (2" deep) or 9"x13" baking dish.
Whisk together eggs, chicken stock and heavy cream plus 2 tsp of salt and pepper to taste.
Pour the egg mixture over the bread mixture and toss until the bread is evenly soaked.
Transfer to the prepared baking dish and press down the bread in the corners to make sure it's all evenly covered with liquid and dot the top with butter.
Bake uncovered for 1 hour, until top puffs and center is set. (At this point, if making ahead cover and refigerate until you're ready to bake. Remove from the fridge 1 hr 1/2 before baking.)