Baked General Tso's Chicken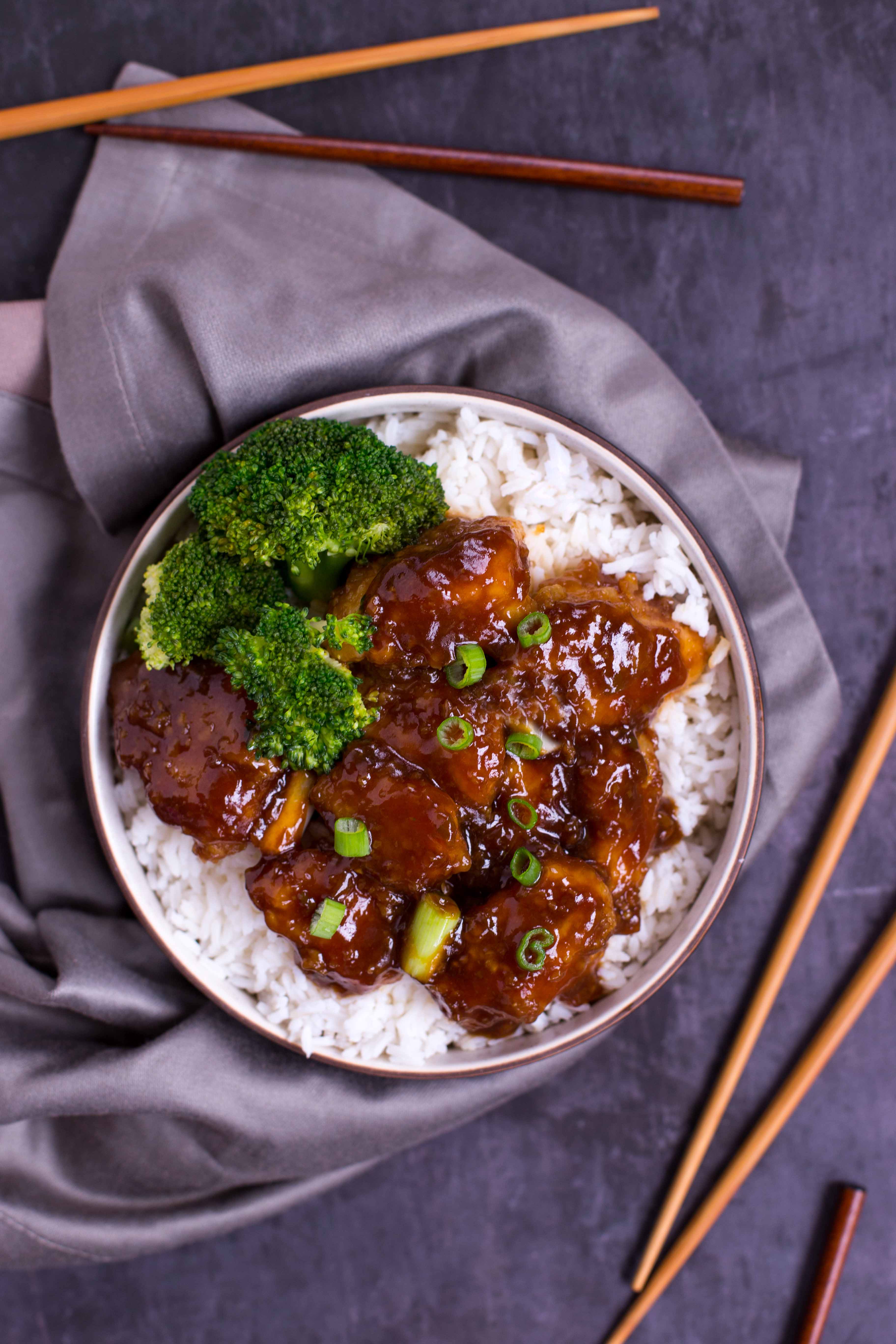 It's no secret that my kids (like most kids) are really picky eaters – especially my three year old. However, one thing they all LOVE is General Tso's Chicken. After all, who doesn't love crispy fried chicken doused in a sweet, flavorful sauce? This is also the only thing my husband ever orders from a Chinese restaurant – and the kids have picked up on that and have renamed it, "Daddy's Chicken".
So, when I was looking for something to make for dinner that wouldn't cause whining and crying and gag reflexes with each forced bite – I thought, "Why not try this?!" My second thought, however, was "I don't want to deep fry chicken." So, I searched the internet high and low and found this amazing combination of the method for baked "fried" chicken from Nagi of Recipe Tin Eats and the adapted sauce from Serious Eats' recipe to make it more kid friendly (i.e. not spicy). The result blew my mind. And could it even be considered guilt-free Chinese food?! Yes, yes it could!
My only warnings, before you go on and make this delicious Baked General Tso's Chicken are two-fold: 1) You won't look at your takeout version of General Tso's Chicken the same anymore after you taste this unbelievable fresh and flavorful homemade sauce. 2) This is not a 30 minute meal. There is a little extra work required to get the baked chicken to taste and feel like deep fried chicken. However, if you can plan ahead and prep the sauce ahead of time that will save you time when you're pulling everything together.
I usually make the sauce first and prep the chicken right up the point where it needs to be baked. Then when we're ready for dinner I put the chicken in the oven while I cook the rice, steam the broccoli and warm up the sauce. Chicken comes out of the oven and goes right into the sauce and is ready to be served. Honestly, for me, putting a little more time into a dish that my kids are actually happy and excited to eat is totally worth it.
Maybe consider cooking-in instead of taking-out this weekend and give this recipe a go – you will be shocked by how good it tastes. Happy Friday! And Happy Daylight Savings weekend… always puts me in a good mood knowing that summer is on the horizon! 🙂
Note: If you don't have a local Asian Market for some of these ingredients, I usually find everything on Amazon!
Baked General Tso's Chicken
Ingredients:
Baked "Fried" Chicken
1.5 - 2 lbs boneless, skinless chicken breast cut into 1"-2" cubes
3/4 tsp salt
1 1/2 cups cornstarch
2 large eggs, lightly beaten
5-10 tbsp extra light olive oil (or vegetable oil)
The Sauce
1/4 cup + 2 tbsp dark soy sauce
1/4 cup Shaoxing wine (or dry sherry - this is what I used, it was still awesome)
1/4 cup Chinese rice vinegar or distilled white vinegar
1/4 cup + 2 tbsp chicken stock (store-bought or homemade)
1/2 cup sugar
2 tsp roasted sesame seed oil
2 tbsp cornstarch
4 tsp minced garlic
4 tsp minced fresh ginger
4 tsp minced scallion bottoms, plus 12-16 scallions (white parts only) cut into 1" pieces
4 tsp extra light olive oil or vegetable oil
Optional for heat/spiciness: 10-15 small dried red Chinese or Arbol Chiles (or 1/2 tsp red chile flakes) - I leave this out for the kids
*Typically served with steamed broccoli and steamed white rice.
Directions:
Baked "Fried" Chicken
Preheat the oven to 400F if you're planning on making this from start to finish. If you're going to finish baking the chicken at a later time, no need for the oven yet.
Sprinkle the salt over the cubed chicken and cover it with the beaten eggs - make sure all the chicken is thoroughly coated. Then place the chicken in a strainer and allow the excess egg to drip off.
Pour the cornstarch into a large Ziplok bag and place the egg-coated chicken into the bag (you can do this in two batches). Zip up the plastic bag, trapping as much air as possible inside the bag and shake it up until the chicken is totally coated in cornstarch.
Heat the oil up to high heat in a large frying pan and add the coated chicken to the pan, again, you can do this in two batches so you don't crowd the pan. Cook the chicken for a few minutes on each side until it's just beginning to turn golden and crispy. The chicken will still be raw on the inside. (If you're not planning on serving dinner immediately you can stop here and cover the chicken with plastic wrap and refigerate until you're ready to bake it. Just bring it back to room temp before baking it to avoid adjusting bake time).
Transfer the chicken to a parchment paper lined baking tray and spray or brush with more oil - bake for 15-20 minutes, until the chicken is more golden and crispy.
The Sauce
Combine dark soy sauce, wine, vinegar, chicken stock, sugar, sesame seed oil, and cornstarch in a small bowl and whisk together until the cornstarch is dissolved and no lumps remain. Set aside.
Combine oil, garlic, ginger, minced scallions and red chilies (if you're using them) in a large frying pan and place over medium heat. Cook, stirring frequently until the vegetables are aromatic and soft but not browned, 3-5 minutes.
Stir sauce mixture and add to frying pan, making sure to get all of the sugar and starch that may have sunk to the bottom.
Cook, stirring frequently, until the sauce boils and thickens - about 1 minute. Add scallion segments and transfer the sauce to a bowl to stop the cooking.
Putting It All Together
When the chicken is done cooking in the oven add it to the sauce, thoroughly coat the chicken, and serve immediately with steamed broccoli and steamed white rice.
Baked "Fried" Chicken Method from Recipe Tin Eats. General Tso's Chicken Sauce adapted from Serious Eats.