Poké Ball Cake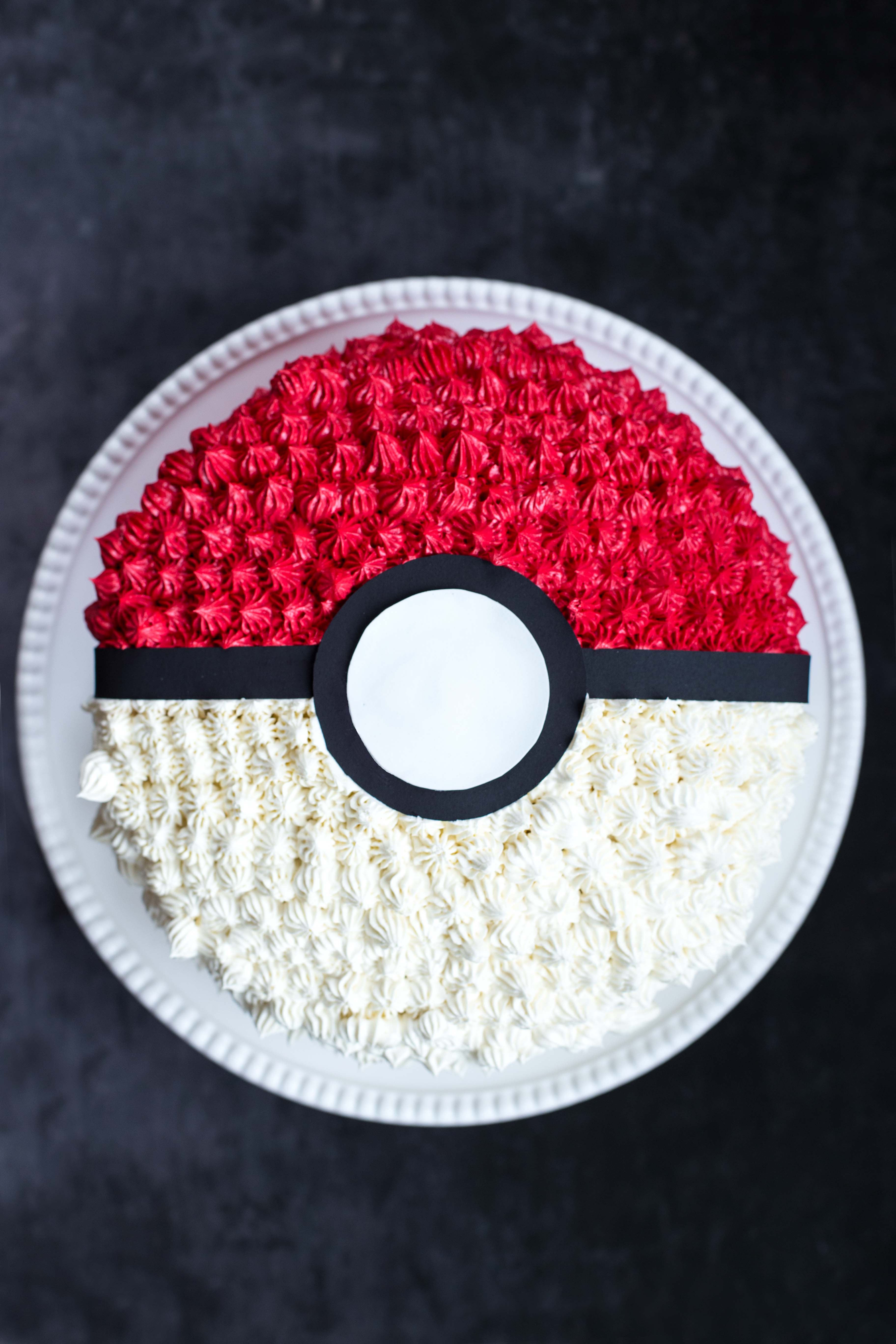 If your child is into Pokémon as much as my son Charlie is, then this cake is for you! Of course, he would have rathered that I hand sculpted a Pikachu or Charizard but that just wasn't happening. So, we came up with the idea of a "surprise inside" giant Poké Ball Cake. Basically, it's a three tier funfetti layer cake that has little plastic Pokémon figurines embedded in each layer of the cake (think like a King Cake x 20).
Every kid ends up happy because each slice of the Poké Ball Cake had about 2-3 figurines in it. Obviously, if you go the "surprise inside" route, it goes without saying that you have to WARN EVERYONE that there are little plastic figures in the cake before they eat it so nobody chokes. The ones I found on Amazon were quite big though, so not really a choking hazard for older kids who were literally destroying the cake looking for the figurines – I digress.
Back to the cake. We went with straight up funfetti with a whipped vanilla buttercream frosting but you could really make this cake whatever you want inside. My go-to funfetti recipe is this one – I made one full recipe and a half recipe to get the full three tiers (you could also just make one recipe and make thinner layers). Then I needed three batches of vanilla frosting – 2 batches stayed white and 1 was dyed red. Lastly, I did not attempt to make the fondant. I cheated and bought these Wilton Sugar Sheets on Amazon (they were amazing). I even used my paper cutter to cut them into perfectly straight strips – then I just carefully traced and cut the round parts with scissors.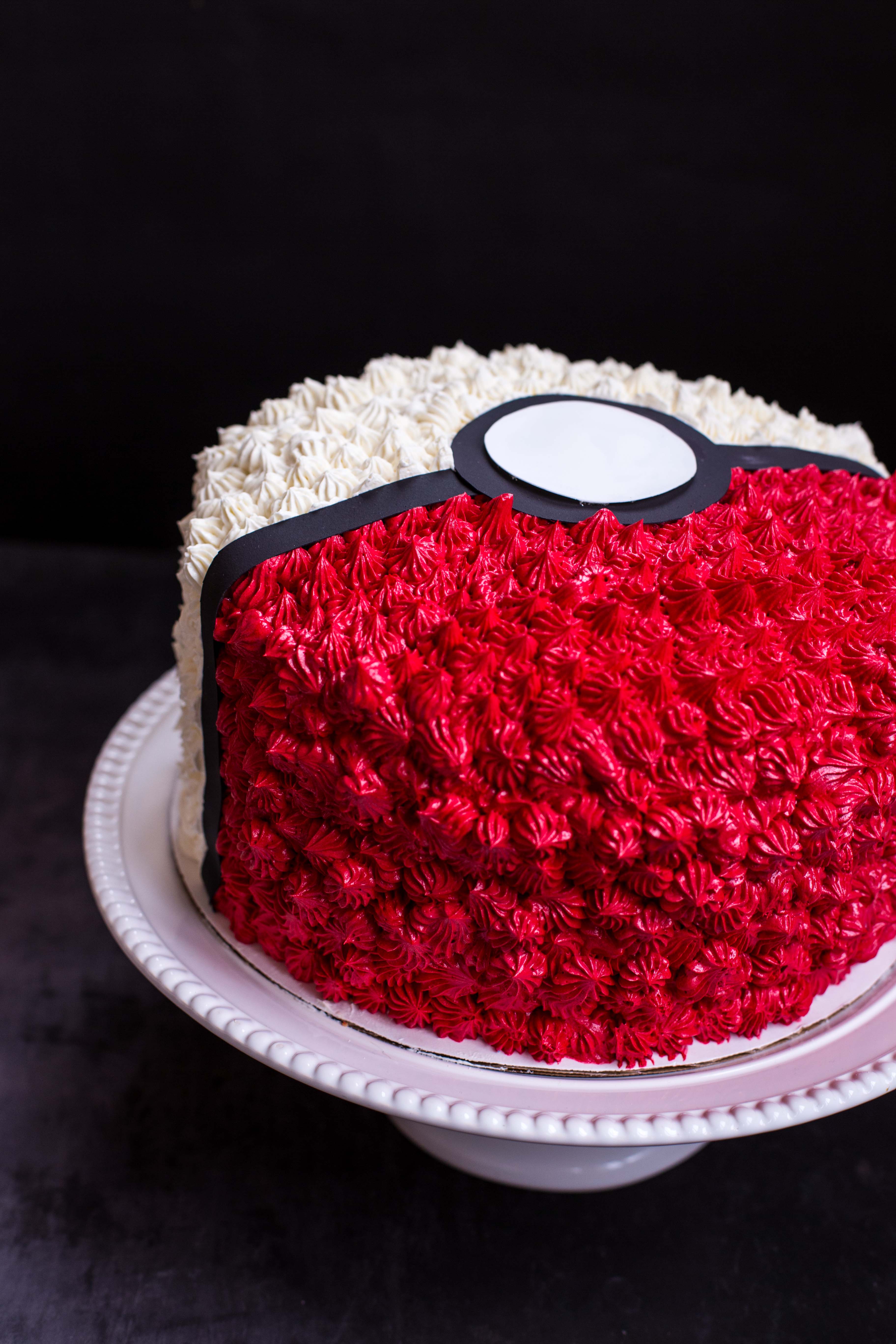 There would have been some nice pictures of the inside of the cake, but I kid you not, it literally got obliterated. The cake was delicious and hiding those little Pokémon figurines inside the cake didn't help either. I also highly recommend this cake decorating method because it's really easy to pull off even if you don't have much experience decorating cakes. You just need the right pastry tip. I used the 8B open star decorating tip to get that look – I would definitely use a large tip to minimize the number of stars you need to cover the cake because you'll be doing this forever with a smaller tip. Hope you find a Pokémon lover to make this cake for 🙂
Poké Ball Cake
Ingredients:
Funfetti Cake
7 large egg whites, at room temperature

1 1/2 cup whole milk, at room temperature

1 tbsp + 1/2 tsp pure vanilla extract

4 1/2 cups cake flour, sifted

2 2/3 cups sugar

2 tbsp baking powder

1 tsp salt

18 tbsp (2 sticks + 2 tbsp) unsalted butter, at room temperature and cut into cubes

Approximately 3/4 cup sprinkles of your choice
Vanilla Frosting
4 1/2 cups (9 sticks) + 6 tbsp unsalted butter, room temp

9 cups confectioners' sugar, sifted

3 pinches of salt

6 tbsp heavy cream

3 tbsp vanilla extract (use imitation clear vanilla extract for really white frosting)

Red gel food coloring
For Decorating
Black and white fondant or Wilton Sugar Sheets
Directions:
Funfetti Cake
Preheat oven to 350°F, prep 3 - 9" round cake pans.  Spray the cake pans with nonstick spray and line them with a round piece of parchment paper.

In a medium bowl or large measuring cup, combine and stir the egg whites, 1/2 cup of milk, and the vanilla – set aside.

In the bowl of an electric mixer fitted with the paddle attachment, combine the dry ingredients together on low speed for 30 seconds.

Add the butter and remaining milk, and mix on low speed until just moistened.  Increase to medium speed and mix for 1-1/2 minutes. Scrape the sides of the bowl and begin to add the egg mixture in 3 separate batches; beat on medium speed for 20 seconds after each addition.

Divide the cake batter evenly between the three prepped cake pans.

Bake 20-25 minutes (rotating the pans halfway through) or until a cake tester comes clean when inserted into the center – be careful to not over-bake.

Allow the cakes to cool for 10 minutes in the cake pan and then remove the cakes from the pans to cool completely before frosting. 
Vanilla Frosting
Place the butter in the bowl of an electric mixer fitted with the whisk attachment.

Whip on medium-high speed until smooth, about 1 minute.

Add the confectioners' sugar to the bowl and mix on medium-low speed just until incorporated.

Add in the salt and continue to beat on medium-high speed until smooth, about 1-2 minutes.

Mix in the heavy cream and vanilla on low speed just until incorporated.

Increase the mixer speed and whip on high speed until light and fluffy, scraping down the bowl as needed, about 4-5 minutes.

Evenly divide the frosting into three bowls - dye one of the bowls of frosting red - the other two will remain white.
Putting It All Together
Once the cakes have completely cooled use one of the bowls of white frosting to frost in between the layers of the cake.  Put a thin layer of frosting across the top of the cake, too. You can leave the sides of the cakes bare because they will be totally covered with the red and white "stars".

Using the 8B Open Star tip (or something similar) start with the red or the white and make the rows of "stars" until the cake is totally covered.  

Cut the black fondant or sugar sheet into 3/4" strip for to go across the middle of the ball.  Cut out a 3" black circle and a 2" white circle for the center.  If using the sugar sheets, just use a little white frosting to stick the white circle to the black circle.
Cake recipe adapted from Sweetapolita and frosting recipe adapted from Annie's Eats. Cake method adapted from The Partiologist.