Turkey Tacos

We're in the midst of summer mayhem and our days are generally long and spent rushing to and from the pool. Seriously, it's a crazy battle to get out of the house to get there and getting home is equally chaotic. One thing I need to know for sure before I leave the house, however, is that dinner will be ready in a matter of minutes once we do get home —-> Enter Taco Tuesday.
I never knew this was a real thing until I started making tacos myself and loving them. Now Taco Tuesday is a household staple – and so is this recipe for Turkey Tacos. Yes, you read correctly: Turkey Tacos. They're healthier because they're made with lean, ground turkey, plus you're making them from scratch without a packaged seasoning mix. The turkey taco meat comes together quickly and if you know me, you know that I make it in bulk and freeze it so that whenever we want tacos in the future I literally just have to pull it out of the freezer in the morning and it's ready to go at dinner time. I usually serve these tacos with a side of Spanish or Mexican rice or quinoa to make it a complete meal.
You could get all fancy with the toppings on these tacos – sliced avocado, fresh cilantro, pico de gallo, etc. Or you could keep it really basic like we do: chopped tomatoes, lettuce, shredded cheddar cheese and sour cream. Simple and delicious. You could also serve these in hard taco shells, soft tortillas or in leaves of Romaine lettuce for a low-carb option. Taco Tuesday aims to please, so it's definitely versatile. And one thing I know for sure is that this recipe is very flavorful and does not disappoint.
I'm trying my best to post regularly, but summertime with the kiddos is seriously crazy. However, rest assured, I have a delicious cocktail coming up next. Until then – make these Turkey Tacos.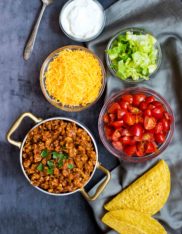 Turkey Tacos
Ingredients:
1 tbsp olive oil
1 small yellow onion, finely chopped
2 cloves garlic, pressed
1 lb. lean ground turkey
Salt and pepper, to taste
1 tbsp chili powder
1 tsp ground cumin
1/2 tsp paprika
1/2 cup tomato sauce
1/2 cup chicken broth
1 cup cherry tomatoes, quartered, for topping
1/2 head Romaine lettuce, chopped, for topping
Shredded cheddar cheese, for topping
Sour cream, for topping
Taco shells or small flour tortillas (approximately 12)
Directions:
Heat the olive oil in a nonstick pan over medium-high heat.
Add the chopped onion and sauté until it's translucent, approximately 3-5 minutes. Then add the garlic and sauté until fragrant.
Next add the ground turkey, season with salt and pepper and toss with the onions and garlic, breaking it up with the back of the spoon. Cook the meat until it is cooked through and no longer pink, about 5 minutes.
Lastly, add in the chili powder, cumin, paprika, tomato sauce and chicken broth.
Reduce the mixture to a simmer and cook until it has reduced - approximately 5 minutes.
Serve with your desired toppings. If cooking extra to freeze, divide it into a freezer-safe tupperware, cool to room temperature and then freeze.
Recipe adapted from Cooks Illustrated.