Strawberry Shrub Cocktail
If you're looking for a drink that tastes like summer – THIS IS IT.  I first time I even heard of a Strawberry Shub Cocktail was when we were at Ocean House for my birthday in June and the minute I took a sip, I just knew I had to recreate it.  It is that good.  It's a little involved because you need to make the strawberry shrub ahead of time, but once that's done you're set for a long time because it makes so much and you don't need a lot in each drink.
This Strawberry Shrub Cocktail is subtly sweet and so refreshing.  You've got the fresh mint, fruit and sweet strawberry shrub mixed with a lightly carbonated lemonade that's topped with more club soda and spiked for the adults.  I had to do a little recon to find out exactly what type of bitter lemon mixer was used and thankfully was able to find Fever-Tree mixers right on Amazon.  If you're not into fresh mint in your drinks, it's still very good without it.  I actually have an aversion to drinking bits of mint leaf in my drink so I usually leave it out or pull out the leaves but the freshness of the mint is a nice touch.  Also, as is the case with most cocktails – feel free to adjust proportions of any ingredient to your particular taste… this particular proportion of ingredients just happens to be my personal favorite.
Summer might be almost over but it won't feel like it if you're drinking this cocktail.  If you're looking for a project this weekend, making the strawberry shrub will definitely be time well spent.  My kids enjoy the virgin version of this drink (it's as close as we're getting to homemade soda around here).   But you and I both know yours will be spiked – as it should be.  Enjoy!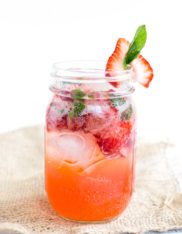 Strawberry Shrub Cocktail
Ingredients:
Strawberry Shrub
1 cup strawberries, quartered
1 cup sugar
1 cup apple cider vinegar
Strawberry Shrub Cocktail
2 tbsp strawberry shrub
2 oz. bitter lemon (Fever-Tree is preferred, available on Amazon)
2 oz. club soda
1-2 oz. vodka
2-3 strawberries, quartered
2-3 leaves mint, chopped
1/2 tbsp sugar
Directions:
Strawberry Shrub
Combine the strawberries and sugar in a bowl and cover - let sit in refrigerator for at least 24 hours, stirring a few times (when you remember).
Strain the strawberry sugar mixture into a bowl and press down with your fingers to extract as much juice and possible from the strawberries.
Add the vinegar to the strawberry syrup and stir to combine.
Store the mixture in a mason jar indefinitely.
Strawberry Shrub Cocktail
Combine the strawberries, mint and sugar in a bowl and macerate until the sugar has dissolved.  Pour the mint and fruit into the bottom of a tall cocktail glass.
Fill the cocktail glass with ice and then add the strawberry shrub, vodka, lemon bitter and club soda.  Stir to combine and enjoy immediately.