Brioche Cinnamon Rolls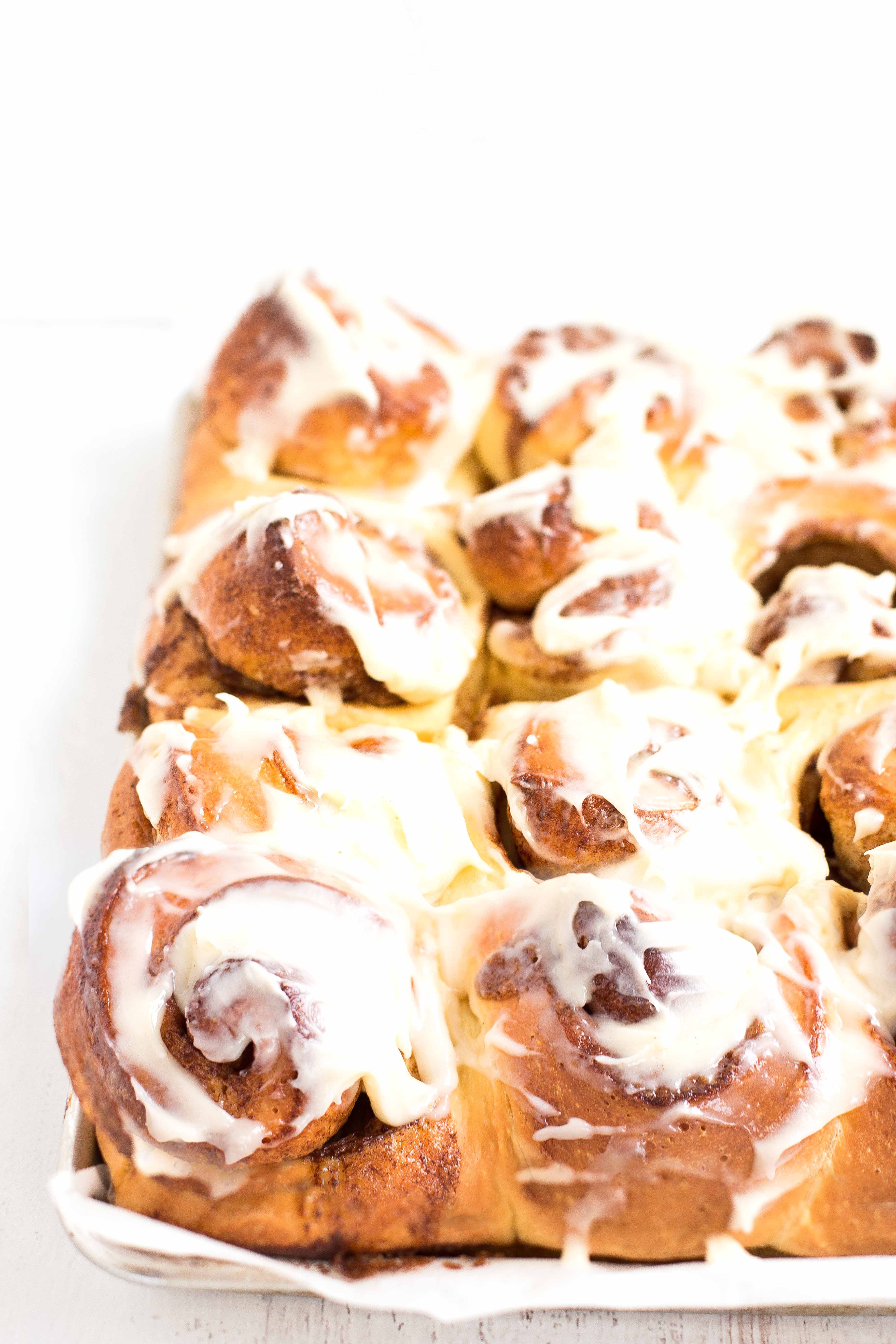 These Brioche Cinnamon Rolls are literally one of (if not) THE best thing I've ever made. Ever. This is not an overstatement people, it's the damn truth. Do they take a long time to make? Yes. Did I totally mess up the first batch by adding an entire CUP more of milk than it called for? Yes. But I persevered and kept trying because my second flu ridden child (third child would follow a few days later) really just wanted some damn good cinnamon rolls and we weren't going anywhere outside of our house anytime soon.
The good news is that aside from patience, you don't need much skill to make these Brioche Cinnamon Rolls – so don't be daunted by the thought of working with a yeasted dough. It's worth it. And even though the process is long, most of the time is inactive wait time.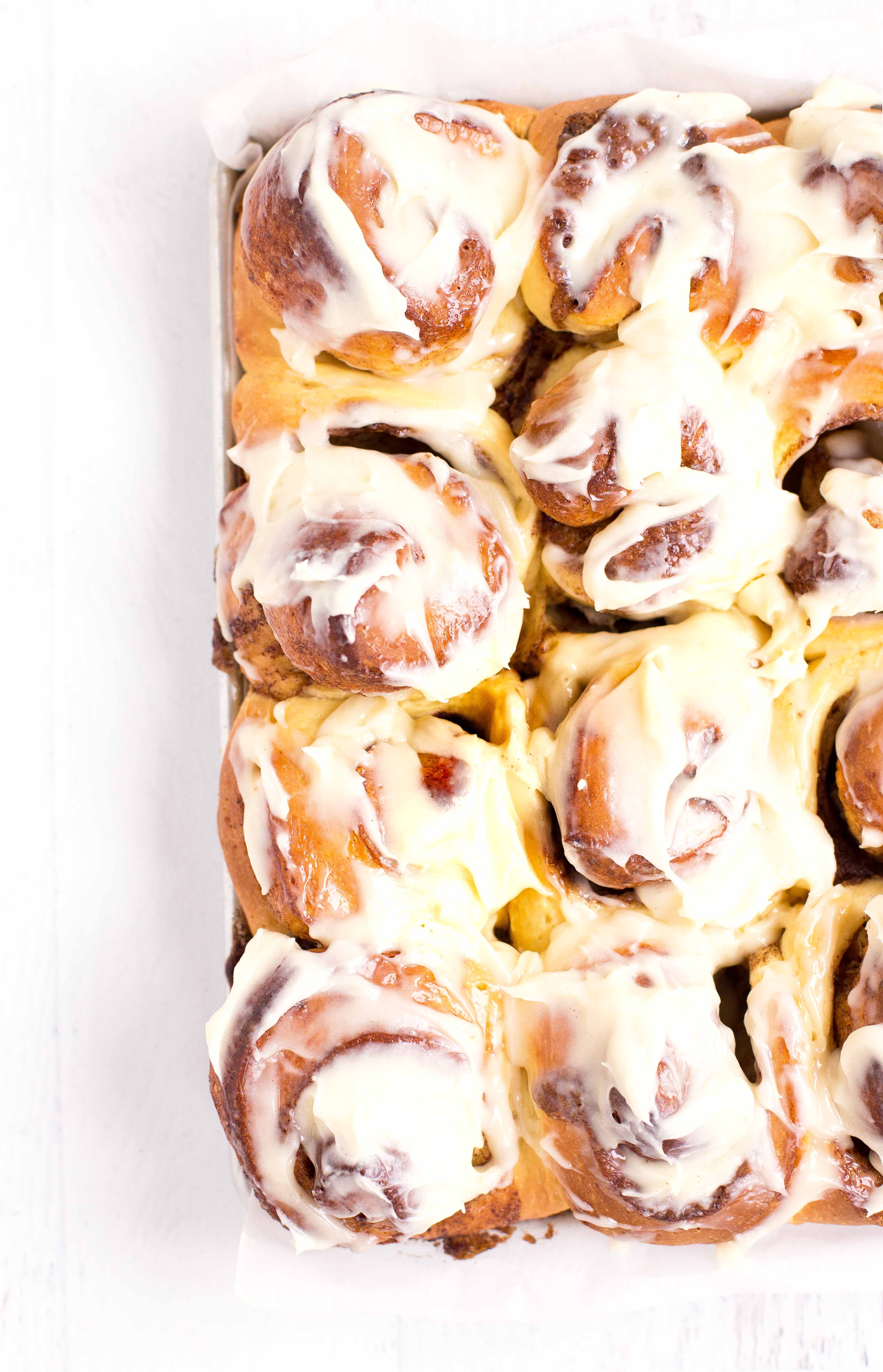 The result in the end is light, buttery, flakey spirals of cinnamon sugar goodness that are oozing with delicious frosting. They're obviously best eaten warm and fresh out of the oven, you really won't be able to resist them once they come out of the oven anyway. I saw this recipe on Foodie Crush but the original source is The Vanilla Bean Baking Blog. I've since bought her cookbook and there are so many amazing things in there that I cannot wait to try.
So, I'll leave you on this lovely Presidents Day Holiday with an amazing recipe that you probably wish I had shared with you sooner. If it weren't for the flu wreaking havoc on my house I promise it would have gotten out earlier. I will forever be disappointed by any other cinnamon roll that I eat, but I am glad that I have this recipe to make whenever I feel the need to eat the best damn cinnamon roll ever.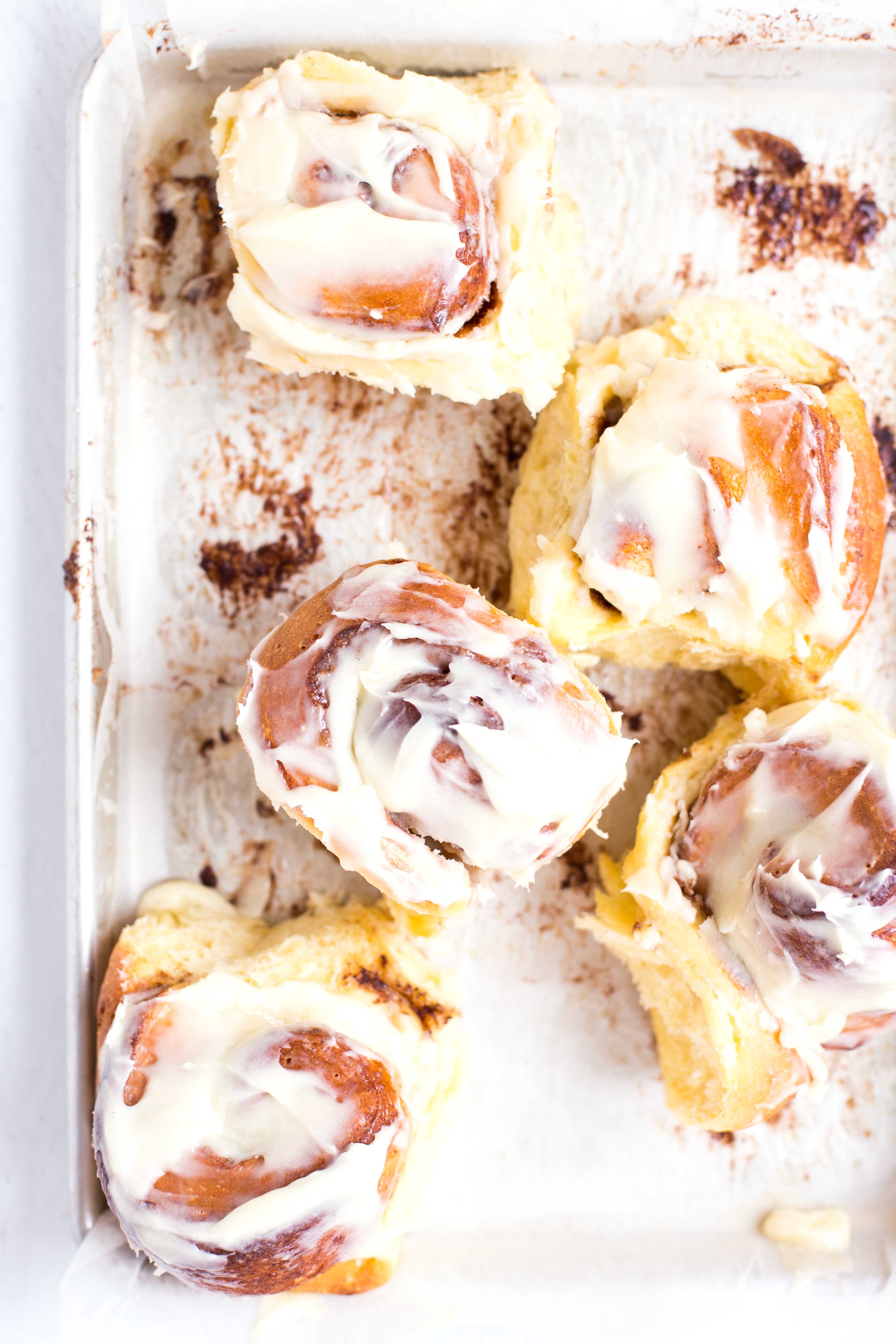 Brioche Cinnamon Rolls
Ingredients:
Dough
4 large eggs, room temp
3/4 cup whole milk, warm (100°F-110°F)
1/4 cup honey
4 cups all-purpose flour
2 1/4 tsp instant dry yeast
2 tsp salt
10 tbsp unsalted butter, room temp and cut into 1" pieces
Filling
1/2 cup packed brown sugar
1 tbsp cinnamon
pinch of salt
2 tbsp unsalted butter, melted and cooled (do not mix with cinnamon and sugar)
Frosting
8 tbsp unsalted butter, room temp
4 ounces cream cheese, room temp
1 tsp vanilla extract
1/4 tsp salt
1 cup powdered sugar
Directions:
Dough
Thinly coat the inside of a large bowl with vegetable oil.  In a measuring cup, lightly whisk together the eggs, milk and honey.
In the bowl of a mixer fitted with the paddle attachment, mix together the flour, yeast and salt on low speed.
Slowly add in the egg mixture on low speed until it's combined.
Add the butter 1 tbsp at a time and once it's all added increase the speed to medium and beat until the butter is well incorporated-- about 1 minute.
Transfer the bowl to the prepared bowl (the dough will be sticky and shaggy so use a spatula to get it all out) and cover totally with plastic wrap.
Place the dough in a warm place away from drafts and allow it to rise for 30 minutes.  When time's up, place your hands under the dough and gently flip the dough over and fold it in half and onto itself 6-8 times.
Cover the dough with plastic wrap again and allow it to rise for 30 minutes.  Repeat the series of foldings 3 more times.  The total rise time will be 2 hours and the total foldings will be 4 times.
At this point, tightly wrap the bowl with plastic wrap and refrigerate for 24-72 hours.  Technically, you can continue with the recipe without refrigerating but it's supposedly easier to work with if you allow it to refrigerate - I let it sit in the fridge overnight.
Rolls
To make the rolls, lightly flour a work surface and knead the dough 10-12 times.  Shape the dough into a ball and cover the top lightly with flour.  Cover with a clean towel and allow to rise to room temperature.
Grease a 9"x13" baking pan or line a 1/2 sheet baking pan with parchment paper and grease the sides.
In a small bowl, mix together the brown sugar, cinnamon and salt.
Roll the dough out into a 16" x 12" rectangle and brush the dough with the melted butter and sprinkle the cinnamon sugar mixture on top of the butter.
Starting with the long side, roll the dough into a tight cylinder.  Pinch the dough at the seam to keep it closed and position the cylinder seam side down.  Use scissors or a sharp knife to cut the cylinder into 12 equal pieces (you could only cut into 8 pieces to make mega-sized rolls).
Place the pieces in the prepared pan, cut side up.  Cover the pan lightly with plastic wrap and let the dough rise until it has doubled , 1 - 1 1/2 hours.
Preheat oven to 350F.  Remove plastic wrap and bake for 25-27 minutes, rotating halfway until the rolls are golden.  While they're baking prepare the frosting.
Once the rolls are done baking, remove from the oven a allow to cool for 5 minutes before applying a thin layer of frosting.  Add as much frosting as desired and enjoy immediately!
Frosting
In the bowl of a mixer fitted with the paddle attachment, beat together the butter and cream cheese until well combined and light and fluffy.
Scrape down the sides of the bowl and  add in the vanilla and salt and mix until combined.  Lastly, slowly add in the powdered sugar and mix until well combined.  Scrape down sides of the bowl and mix on medium until light and fluffy-- about 3-4 minutes.