Ham, Cheddar and Scallion Quiche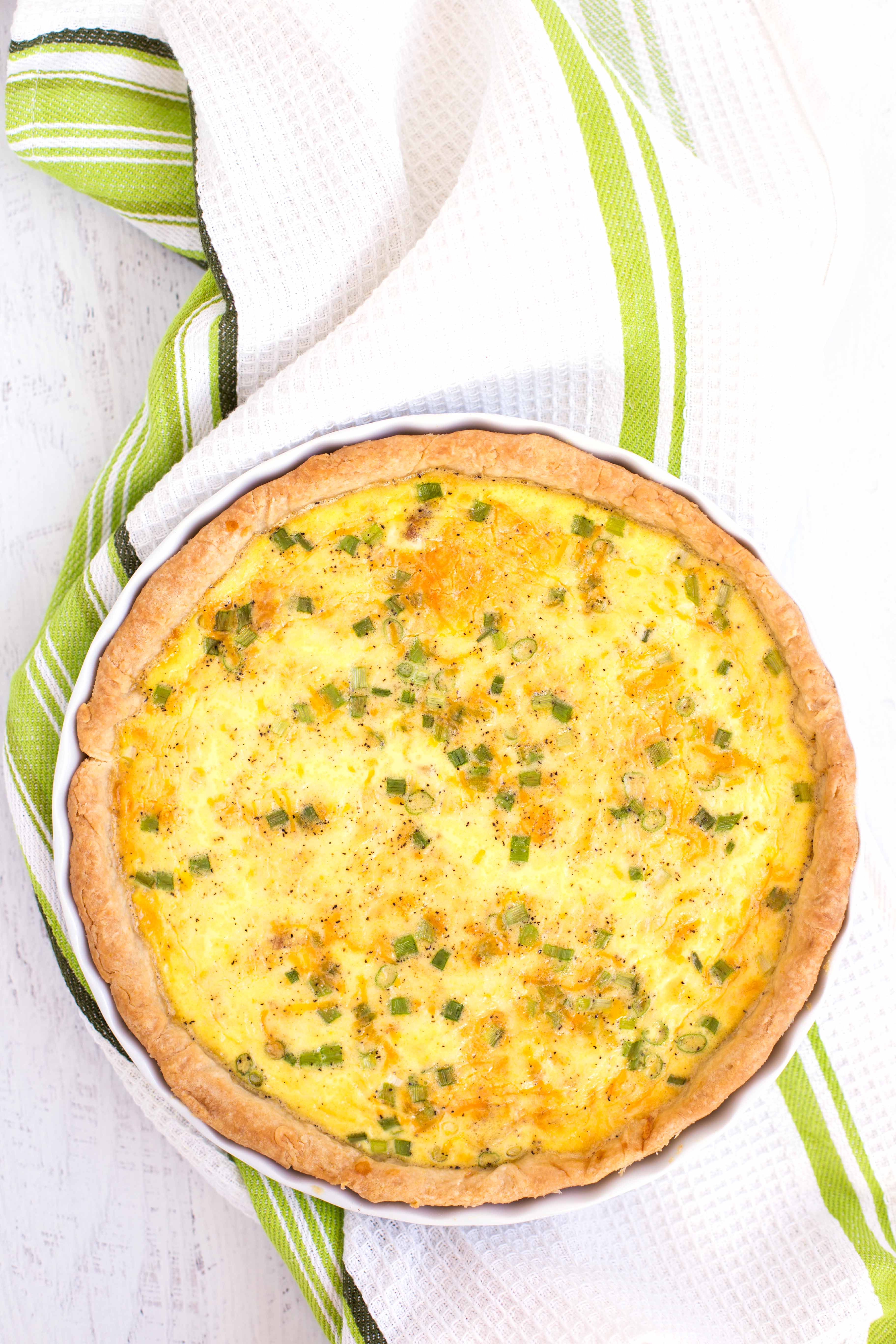 This has officially been the longest winter ever. It seems as though every possible sickness has gone through our family this year, which has just made it extra unbearable. I am so ready for it to be spring and to think warm, happy thoughts like Easter egg hunts in warmish weather – which brings me to this quiche. This Ham, Cheddar and Scallion Quiche would be perfect for your Easter brunch.
It's easy to put together, doesn't require any crazy ingredients and can be made ahead of time, which is always a bonus in my book. The crust can either be homemade (recipe below) or you can use store-bought pie dough and you could really mix and match whatever fillings you want (for ex. sub out the ham for sausage, use mozzarella instead of cheddar and roasted red peppers instead of scallions – possibilities are endless!). I used a 9″ quiche dish to make this Ham, Cheddar and Scallion Quiche, but you can also use a regular 9″ pie dish and it will be fine.
I'm so looking forward to warmer weather that seems to be right around the corner. Maybe if we just keep cooking and baking springy things it will come sooner! A girl can dream…. Happy Friday!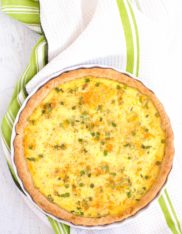 Ham, Cheddar and Scallion Quche
Ingredients:
Quiche Dough
 1 1/2  cups flour
3/4 tsp kosher salt
1/2 tsp baking powder
1/4 cup vegetable shortening (i.e. Crisco), cubed
1/4 cup unsalted butter, chilled and cubed
1/4 - 1/3 cup ice cold water
Filling
1/2 cup ham, chopped
3/4 - 1 cup shredded cheddar
2 - 3 scallions, finely chopped
3 large eggs
1 1/4 cup heavy cream or half-and-half
1/2 tsp salt
1/4 tsp black pepper
Directions:
Make the Dough
Mix the flour, salt and baking powder in the bowl of a food processor fitted with a metal blade.
Toss in the shortening and butter and coat them with the flour.
Pulse 10 times or until the shortening and butter are about the size of peas.
While the food processor is running, pour in the ice cold water.
Process until the dough is moistened and is beginning to clump together.
Place the dough onto a floured surface and form it into a ball.
Wrap the dough with plastic wrap and place in the refrigerator for at least 30 mins.
Make the Crust
Preheat oven to 375°F.  Roll out the dough on a lightly floured surface to 1/4" thick.  Transfer the dough to a 9" quiche or pie dish (a great trick I use is folding the half of the dough over the rolling pin and lifting it up and then  placing the dough right into the pie dish).
Crimp as desired, cover and chill for an additional 30 minutes.
Line with foil and fill with dried beans or pie weights and blind bake until the crust is set, about 20 minutes.  Remove the foil and bake for an additional 5-10 minutes, until it's lightly golden.  Allow it to cool while you prep the filling.
Make the Quiche
Whisk together the eggs, cream or half-and-half, salt and pepper.
Evenly distribute the ham, cheddar and scallions on top of the quiche crust and pour the egg mixture on top.
Reduce the oven temperature to 350F and bake fro 40-50 minutes, until the quiche is set.  Allow to cool for at least 30 minutes before slicing.