Malted Cookie Crunch Ice Cream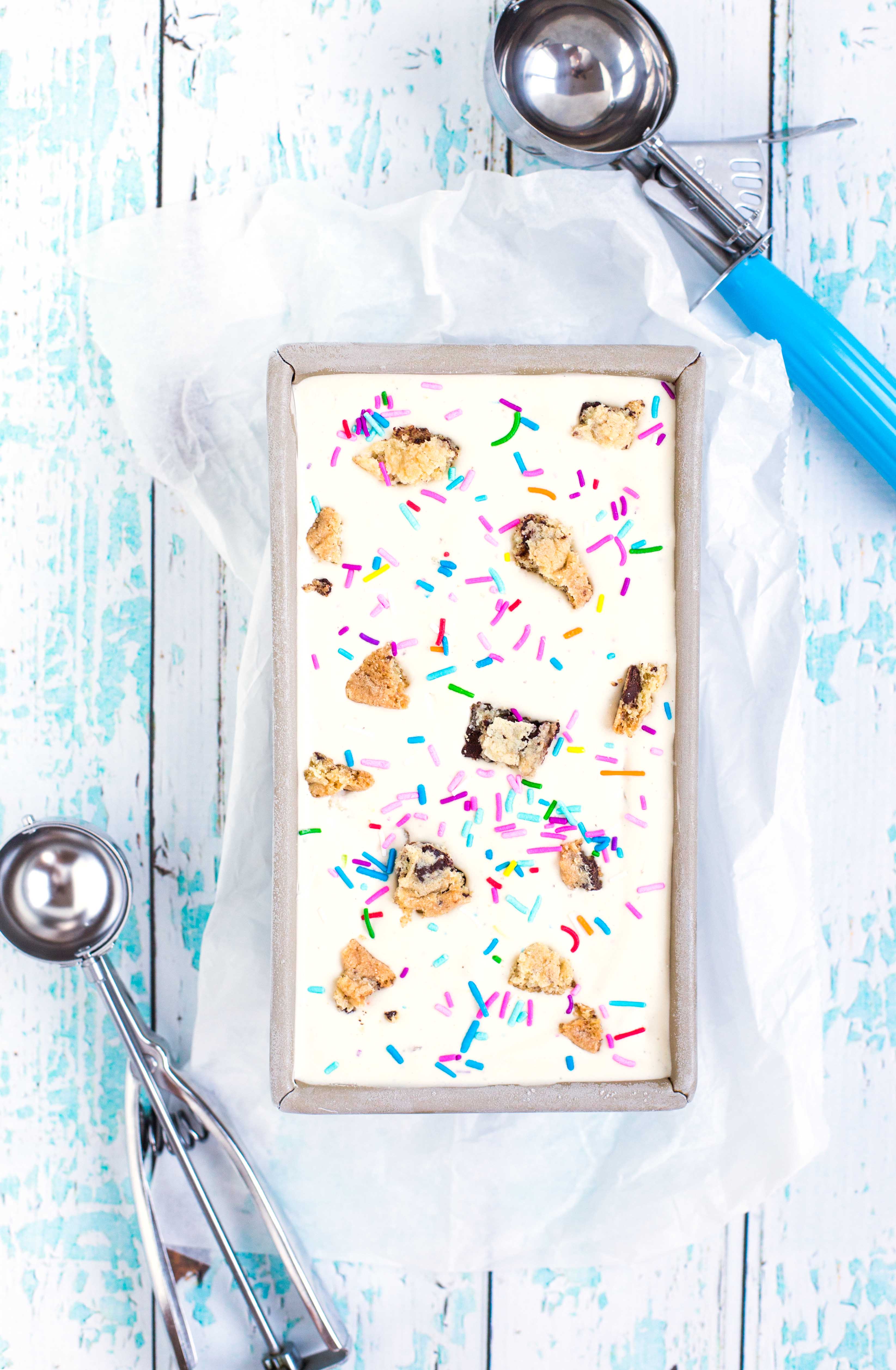 Every summer I like to make a couple of batches of homemade ice cream, for a couple of reasons. 1) It's just so damn good; seriously makes you realize how rich real ice cream is supposed to be (and why the good ones have so many grams of fat in each serving). 2) I need to justify why I bought a serious ice cream maker that takes up so much counter space 😬.
I decided to test out David Lebovitz's ice cream cookbook, The Perfect Scoop. There are literally hundreds of ice cream recipes as well as recipes for insane toppings. I cannot wait to try more recipes out, but I started with an old favorite – malted ice cream. To his base, I added my leftover Pan-Banging Chocolate Chip Cookies and rainbow sprinkles… because, why not? This Malted Cookie Crunch Ice Cream was over the top delicious and my kids loved it.
I've only made a French style custard based ice cream once before – that's one that requires cooking egg yolks. Usually I make a Philadelphia style ice cream simply because it's less time consuming. The custard base definitely ups the richness and makes it unbelievably creamy. But rest assured, if I make another ice cream this summer it will be Philly based because mama doesn't have time to slowly cook egg yolks without turning them into scrambled eggs more than once a summer.
So, if you've got yourself an ice cream maker, this recipe for Malted Cookie Crunch Ice Cream is worth trying out because it's not something you can find in any store and it's just that good.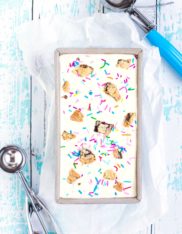 Malted Cookie Crunch Ice Cream
Ingredients:
1 cup half-and-half
3/4 cup sugar
Pinch of kosher salt
2 cups heavy cream
1/4 tsp pure vanilla extract
2/3 cup malt powder
6 large egg yolks
1 cup chopped chocolate chip cookies
1/3 cup rainbow sprinkles
Directions:
Warm the half-and-half, sugar and salt in a medium saucepan (make sure it doesn't get too hot).
In a large bowl, whisk together the cream, vanilla and malt powder - set a mesh sieve on top.
In another bowl, whisk together the egg yolks. Slowly pour the warmed half-and-half mixture into the egg yolks, whisking constantly.
Pour the warmed egg yolks back into the saucepan and stir the mixture constantly with a heatproof spatula over medium heat, scraping the bottom as you stir, until the mixture thickens and coats the back of a spoon.
Pour the custard through the mesh sieve and whisk it into the malted milk mixture. Stir over an ice bath until cool.
Place the mixture in the refrigerator until it's thoroughly chilled. Then freeze it in your ice cream maker according to the manufacturer's instructions.
As you remove the ice cream from the machine, fold in the "mix-ins" (cookies and sprinkles). My ice cream maker lets you know when you can add them in, but if yours doesn't have this setting, just do it at the end.