Dad's Roasted Banana Ice Cream
I've been gone a little while… with good reason. Life is a crazy journey that has so many inexplicable and unexpected moments. One day someone could be here and then, the very next day, they could be gone.  I tend not to get too personal in this space.  I like to keep it fun and mainly about the food… but since this blog is really an extension of my life experiences through food, I cannot ignore what happened this summer.
We lost my dad this summer. It was sudden and unexpected and happened on one of our traditional 'Family Day' Sundays. I remember rushing that summer morning to get the ingredients ready for this ice cream so that it would be ready by dinnertime. I wanted him to taste this ice cream so badly. I knew he'd love it. I loved cooking for my dad. He loved enjoying food and trying new things. He was the perfect test audience for any new recipe I tried out and was brutally honest – telling me quite bluntly when something wasn't that great, usually saying, "Looks like shit, Poopsie." (However, that was very rare and made for a good laugh).
He never got to try my Roasted Banana Ice Cream that day but I'm sure by now he's tasted it and much more up in heaven. Trying to get back to normalcy after a significant loss is very difficult, but it's important to try to get there. Blogging is something that I truly enjoy – it's a creative outlet for me that combines my passion for cooking and enjoying good, wholesome food with art through food photography. Getting back into the groove of posting recipes is one step in the direction of getting back to normalcy. It's a new norm, one that I can't stand, but it's now our norm nonetheless.
I've had that pint of Roasted Banana Ice Cream in my freezer since that fateful day. It's time for the ice cream to come out and be shared so we can move forward. These scoops are for my dad.
There are so many foods and recipes that remind me of my father and they always will. And I'm sure there are recipes that I will make in the future that I will wish he could taste test for me – even if just to tell me that it tastes like shit and make me laugh. I'm not going to stop and give up on blogging because he was proud of the cook that I am. He enjoyed eating the food that I made for him. It made him feel loved, happy, appreciated… lucky. And we were so lucky to have him.
Miss you, dad, always.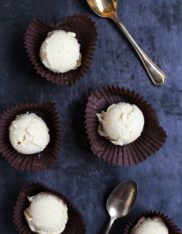 Dad's Roasted Banana Ice Cream
Ingredients:
3 medium ripe bananas, peeled
1/3 cup light brown sugar, packed
1 tbsp unsalted butter, cut into small pieces
1 1/2 cups whole milk
2 tbsp granulated sugar
1/2 tsp pure vanilla extract
1 1/2 tsp freshly squeezed lemon juice
1/2 tsp kosher or sea salt
Directions:
Preheat the oven to 400°F.
Slice the bananas into 1/2" pieces - place them into a 2-quart baking dish and toss them with the brown sugar and butter.
Bake for 40 minutes, stirring only once, until the bananas are browned and totally cooked.
Scrape the bananas and thick syrup from the baking dish into a blender or food processor.
Add in the milk, granulated sugar, vanilla, lemon juice and salt and puree until the mixture is smooth.
Chill the mixture thoroughly in the refrigerator, then freeze it in your ice cream maker according to the manufacturer's instructions.