Middle Eastern Braided Cheese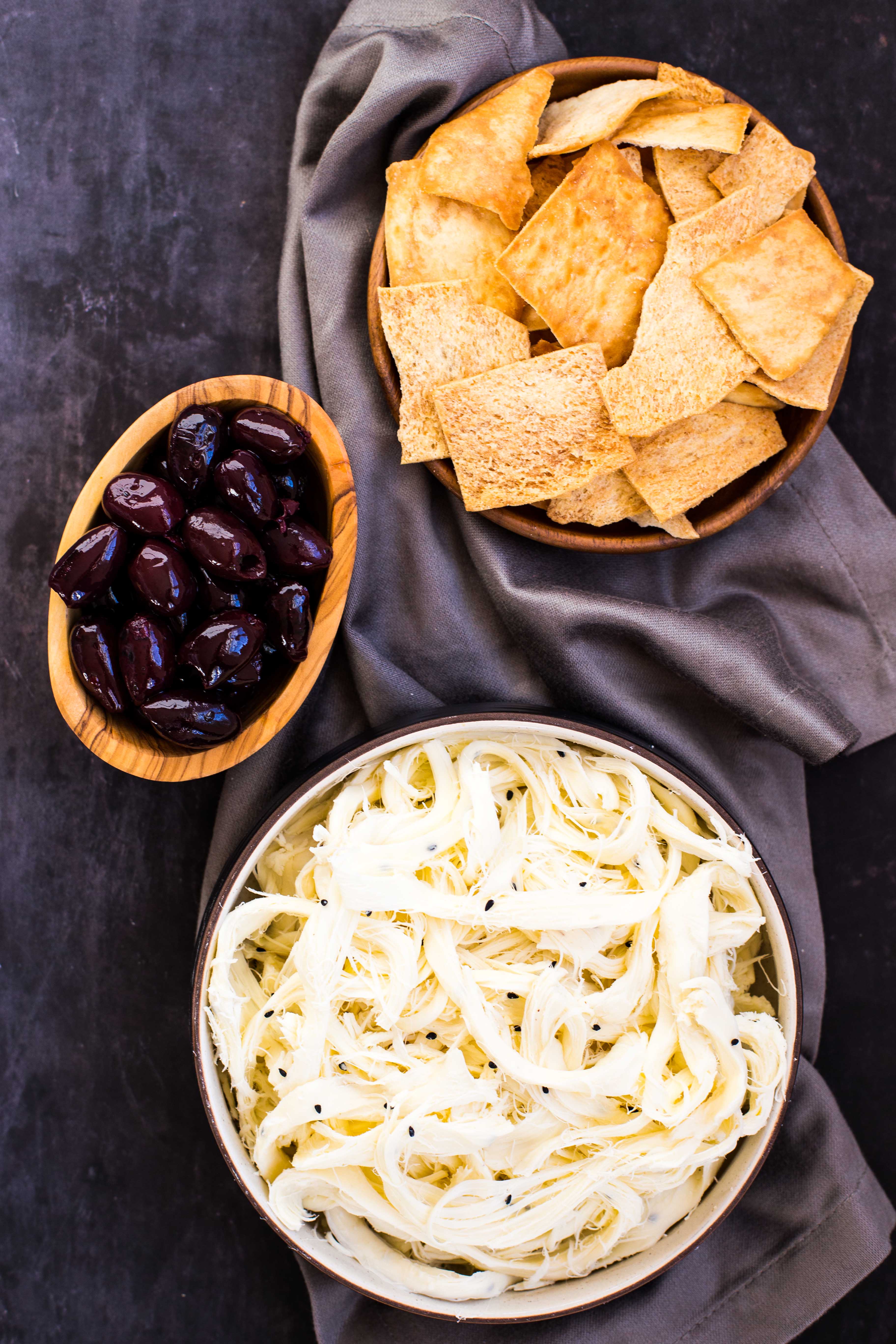 This cheese is definitely like no other cheese you've ever tried.  If you know me, or have read the blog enough, you know that I'm not really a cheese person.  Sure, I like pizza and I like soft, spreadable cheese – but I typically am not one to just eat a bite of cheese on its own.  This cheese, however, is a totally different story.
Making this Middle Eastern Braided Cheese is one of my favorite family traditions.  Every year my mom puts in an order at the dairy for at least 50 – that's right – 50 POUNDS OF CHEESE.  My dad used to happily pick up the mozzarella cheese curd because he knew that after that day of cheese braiding, he'd have braided cheese whenever he wanted.  The beauty of this cheese is that once it's prepared, you can freeze it and it lasts at least 6-8 months.  (I've definitely shamelessly eaten a package that had been in my freezer for a year.)
My mother has taught me the art of making this truly unique cheese that requires some patience, practice and withstanding handling burning hot cheese.  I call this Middle Eastern Braided Cheese a labor of love.  Everyone who tries it loves it and we've tried to purchase it from Middle Eastern markets and nothing compares to making it at home.
So, if you're feeling adventurous, and looking for something deliciously rewarding to try out, this cheese is for you.  You can also eat it so many different ways.  It can be composed as a Middle Eastern cheese board with olives and pita chips like you see here, or you can eat it rolled up in regular pita bread or melted in the toaster with pita bread… or just by the handful.  Really, it's the cheese that just keeps giving.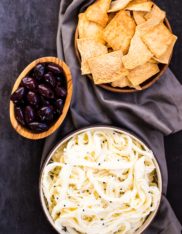 Middle Eastern Braided Cheese
Ingredients:
10 lbs Mozzarella Curd Cheese (for braiding)
2 cups Kosher salt
4 cups warm water
Fresh, finely ground Mahleb
Equipment
Large pot or stainless steel bowl
Strainer
Shallow, microwave safe, dish with sides (ex. glass pie dish)
Directions:
Combine the Kosher salt and warm water in a large pot or bowl and stir until the salt has dissolved.
Slice the mozzarella cheese curd into 1/4" slices.
Cover the bottom of a microwave safe, shallow dish with sides (ex. glass pie dish) with water and microwave a stack of 5 slices of cheese (approximately 1 lb) for 2 minutes on high.
Fold the edges of the partially melted cheese in and microwave again for 1 minute on high.
At this point, the cheese should be very soft and pliable (if it's not, continue to microwave in 1 minute increments until it is).
Transfer the cheese to a strainer set over a large dish and knead the (hot) cheese with a generous pinch of mahleb and a generous pinch of the black cumin seeds.  Continue to knead the cheese a few times until it has cooled enough that you are able to handle it without totally burning your hands.  However, it must still be hot in order to stretch it out enough to braid it.
Form the cheese into a round ball and make a hole in the middle of it.  Carefully pull the cheese out into a ring and keep stretching it until it's as far as it will go without breaking.
Bring the ends of the pulled cheese together, gather again from either side and pull out again as far as it will go without breaking.   If it breaks, don't fret, just try to gather it back in and keep repeating the "braiding" process.
Repeat the braiding until you cannot do it anymore.  At that point, twist the cheese and knot it.  Place the knotted cheese in the salted water to cool for 1 hour.  (You can add ice to the salted water to speed up the cooling time.)
Once the cheese has cooled, you can pat it dry with paper towels and either serve immediately or wrap it up tightly in plastic wrap and then aluminum foil and store in a Ziplok freezer bag in the freezer.  When you're ready to serve the cheese, take it out the night before to defrost.
To "unbraid" the cheese simple beging by puling it apart with your hands.  You will be pulling it into strings of soft, flavored cheese.