Banana Bread French Toast

FINALLY! I've finally gotten around to recreating this amazing breakfast. Last time we ate this was when Bob proposed to me in Bermuda. The Waterlot Inn (a ridiculously good restaurant in Bermuda that you should check out if you're ever there) served this on their Sunday brunch menu and it clearly left a lasting impression because that was almost 7 years ago.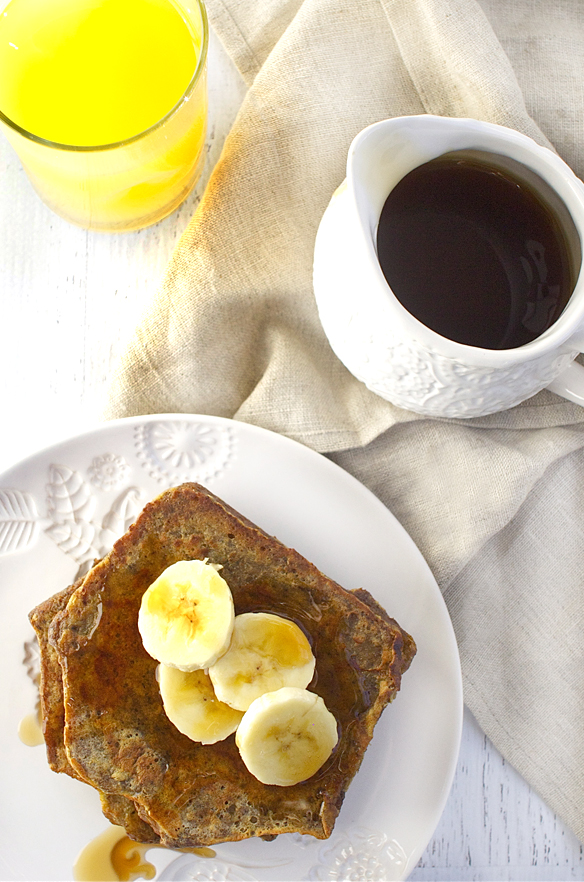 This decadent breakfast is definitely not something you're going to have every day but a special occasion (or being snowed in for the 20th time this winter) totally calls for something this comforting and juicy. If I've been pining after it for 7 years, that's gotta tell you something. And it tasted just as good as we both remembered.

Banana Bread French Toast
Recipe adapted from Cooks Illustrated
Ingredients:
Banana Bread
2 cups flour
3/4 cup sugar
3/4 tsp baking soda
1/2 tsp salt
1 tsp cinnamon (optional)
3 very ripe bananas, mashed (about 1 1/2 cups)
1/4 cup buttermilk
1 tsp vanilla
2 large eggs
6 tbsp butter, melted and cooled
French Toast Dipping Mix
4 large eggs, lightly beaten
3/4 cup whole milk
2 tsp cinnamon
2 tbsp flour whisked together with 2 tbsp milk (this ensures there are no lumps in your dipping mix)
Directions:
Banana Bread
Preheat oven to 350°F.
Spray a loaf pan with nonstick spray.
Sift together the flour, sugar, baking soda, salt and cinnamon in a large bowl - set aside.
In a separate bowl, mix together the mashed bananas, buttermilk, eggs, butter and vanilla until well combined.
Gently fold the banana mixture into the dry ingredients until just combined and the mixture looks chunky.
Pour the mixture into your prepped loaf pan and bake for 55 minutes or until a cake tester comes out clean - allow the banana bread to cool completely then slice into 1/2" slices.
French Toast Dipping Mix
In a shallow pan, whisk together the eggs, milk cinnamon and flour mix - set aside
Putting it all together...
Melt 1-2 tbsp butter in a frying pan over medium heat.
Dip a slice of banana bread into the french toast dipping mix and make sure both sides are fully coated - let any excess drip off.
Pan fry the slice of banana bread for about 3 minutes on each side or until it's golden brown.
Repeat the process for the remaining slices of banana bread.
Serve immediately topped with maple syrup and sliced bananas.