Easter Egg Cookies

As I write this post, snow is falling yet again but I'm trying so hard to get into a Spring state of mind. But really – it just needs. to. stop. These cookies, however, will definitely help put everyone in a Spring mood. The cookies plus the fact that this weekend is Daylight Savings is almost enough to cancel out all the snow.
This week I'm participating in a Blog Hop coordinated by Nagi of RecipeTin Eats and Meggan of Culinary Hill – two awesome blogs that you should check out. The fellow blogger I've been connected with is Wanda of Bakersbeans. Her blog has tons of great recipes but one that jumped out at me was her idea to combine one of my favorite candies of all time with chocolate chip cookies.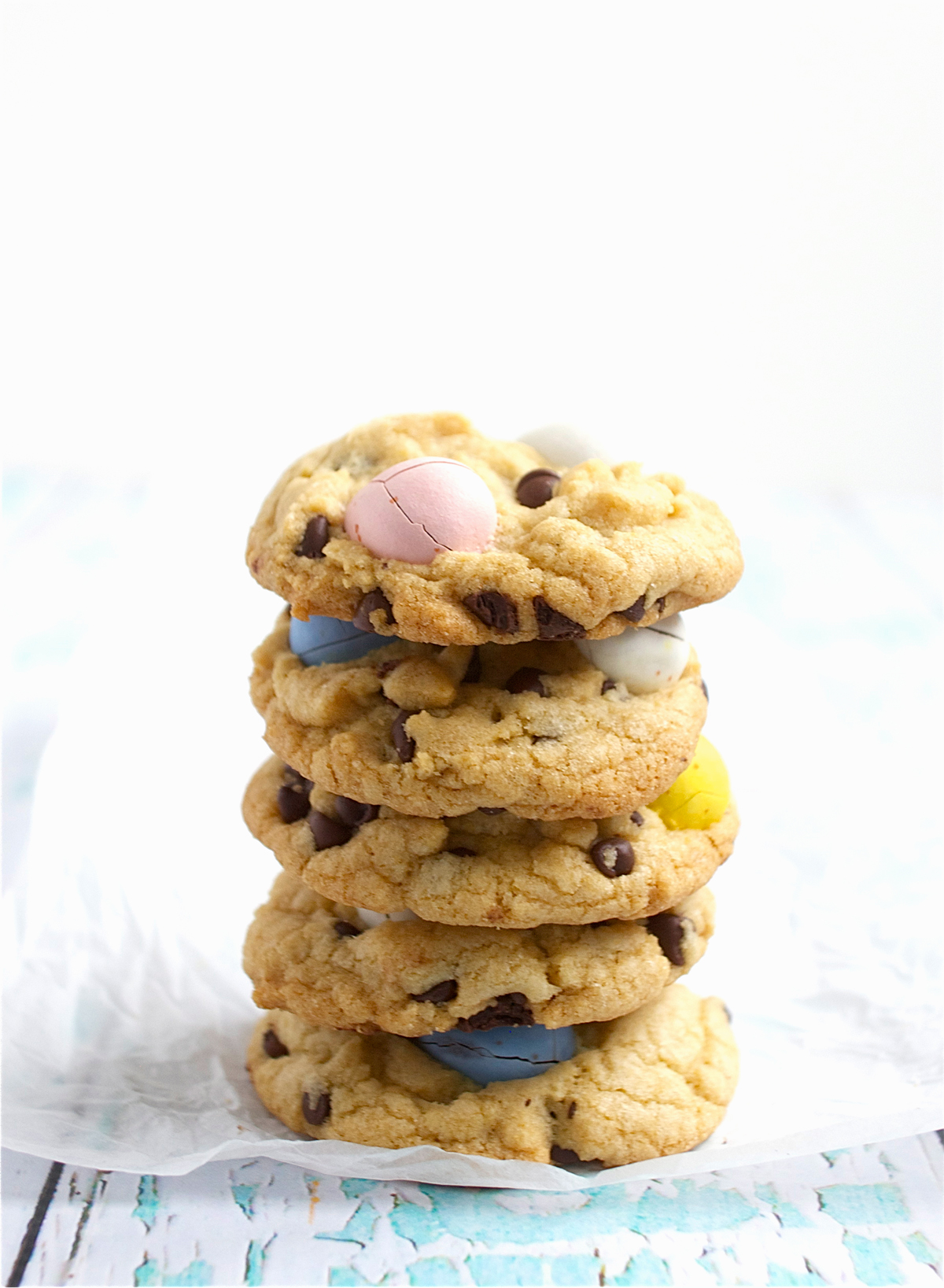 These Cadbury Mini Egg cookies are so good – and so festive! Kids and adults will both want these in their Easter baskets (if they last long enough to make it in there). Wanda's chocolate chip cookies are thick, soft, chewy and have a hint of cinnamon. Hop on over to her blog for her favorite chewy chocolate chip cookie recipe. I made her recipe in addition to testing out one using melted butter that I've been needing an excuse to try out. (Obviously). So, you can find the other recipe I made with the Mini Eggs here. These cookies are crispy, chewy and pretty reminiscent of the classic Toll House Cookie – but better. Using melted butter makes prep a little less timely since you don't need to wait for the butter to soften and the cookies are delicious. You can't really go wrong with either cookie – so put these on your list of Easter treats and get ready for Spring!

Easter Egg Cookies
Ingredients:
2 cups all purpose flour
1/2 tsp baking soda
3/4 tsp salt
1 cup packed light brown sugar
1/2 cup granulated white sugar
3/4 cup unsalted butter, melted
1 tbsp vanilla extract
1 large egg
1 large egg yolk
1 cup mini semisweet chocolate chips
Cadbury Mini Eggs (get two bags just to be on the safe side)
Directions:
Preheat the oven to 325°F and line a baking tray with parchment paper.
In a medium bowl, sift together the dry ingredients (flour, baking soda and salt) and set aside.
Cream together the butter and sugars using an electric mixer until the mix well blended.
Add in the vanilla extract and the eggs one at a time and beat until well combined
Slowly add the dry ingredients to the wet ingredients and mix until just combined.
Fold in the chocolate chips until they're evenly distributed.
Place tablespoon size balls of cookie dough onto the parchment paper and press two mini eggs into each ball of dough.
Bake for 10-12 minutes or until the edges are just golden brown.
Allow the cookies to cool for a few minutes on the baking tray before transferring to a wire rack to cool completely.