Minion Cupcakes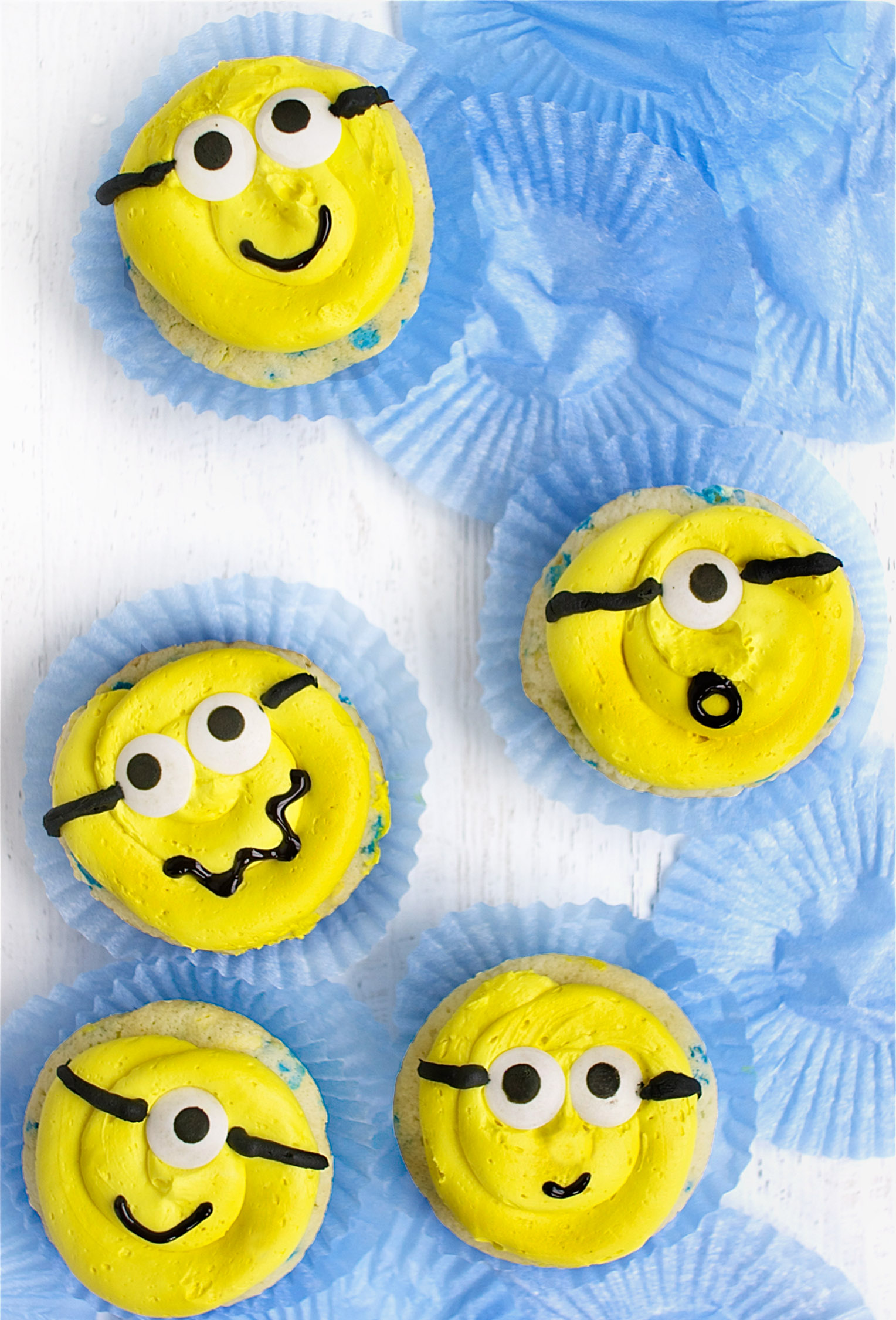 I can't believe that Henry is 2 today! Time is really flying by. To celebrate my little minion, I made his favorite character into cupcakes. This is my favorite homemade funfetti recipe with my favorite vanilla frosting (yes, again – I seriously can't get enough of it). I love these cupcakes because the cake is so light and delicate and you can customize the colors on the inside. Since minions are pretty simple looking creatures, the decorating was easy – which is great for anyone who isn't too experienced in cake decorating like myself.
After a rough week of everyone being sick last week, we're so happy to be able to celebrate Henry today! Here's to a 100 more years of health and happiness to my little minion.

Minion Cupcakes
Ingredients:
Cupcakes
5 large egg whites, at room temperature
1 cup whole milk, at room temperature
2 1/4 teaspoons pure vanilla extract
3 cups cake flour, sifted
1 3/4 cups sugar
1 tablespoon + 1 teaspoon baking powder
3/4 teaspoon salt
12 tablespoons unsalted butter, at room temperature and cut into cubes
Approximately 1/3 – 1/2 cup blue and yellow sprinkles
Frosting
1 1/2 cups plus 2 tbsp (3 sticks plus 2 tbsp) unsalted butter, at room temperature
3 cups confectioners' sugar, sifted
Pinch of salt
2 tbsp heavy cream
1 tbsp vanilla extract
Yellow gel food coloring
Decorations
Directions:
Cupcakes
Preheat oven to 350°F, fill 2 cupcake trays with cupcake liners.
In a medium bowl or measuring cup, combine and stir the egg whites, 1/4 cup of milk, and the vanilla – set aside.
In the bowl of an electric mixer fitted with the paddle attachment, combine the dry ingredients together on low speed for 30 seconds.
Add the butter and remaining milk, and mix on low speed until just moistened.  Increase to medium speed and mix for 1-1/2 minutes. Scrape the sides of the bowl and begin to add the egg mixture in 3 separate batches; beat on medium speed for 20 seconds after each addition.  Lastly, fold in the sprinkles.
Using an ice cream scooper to get cupcakes of equal size, fill the cupcake liners about 2/3 full (these will rise).
Bake 18-20 minutes (rotating the pans halfway through) or until a cake tester comes clean when inserted into the center – be careful to not over-bake.
Once the cupcakes are completely cool, frost them with the vanilla frosting.
Frosting
Place the butter in the bowl of an electric mixer fitted with the whisk attachment.
Whip on medium-high speed until smooth, about 1 minute.
Add the confectioners' sugar to the bowl and mix on medium-low speed just until incorporated.
Add in the salt and continue to beat on medium-high speed until smooth, about 1-2 minutes.
Mix in the heavy cream and vanilla on low speed just until incorporated.
Increase the mixer speed and whip on high speed until light and fluffy, scraping down the bowl as needed, about 4-5 minutes.
Add in the yellow food coloring and mix until the color is well blended.
To Decorate
Once the cupcakes have completely cooled, use an extra large round tip to pipe the icing on top of the cupcakes (start on the outside and work your way inward).
Add one or two candy eyes.
Use the Wilton decorating icing for the goggle straps.
Use the Wilton deocorating gel for the minion mouths.