Spring Quinoa Salad

This spring quinoa salad may seem like a mix of so many random ingredients but it works and is so tasty. It's light, bright and fresh but definitely satisfying and filling. You could eat this salad warm or cooled to room temperature – it works either way. Personally, I like serving this salad at room temperature over some fresh greens that are lightly dressed in the same dressing – it's the perfect spring time lunch. The bonus is that you can make it ahead and eat it over a few days.
Also, unrelated to the recipe, but very exciting in the food blogging world is the launch of a new website/resource base for all food bloggers! Food Bloggers Central was created by Nagi of RecipeTin Eats and it's AWESOME and FREE. It just launched but is already full of so much useful information. It's sure to be an amazing go-to resource base for food bloggers… so, if that's you, please check it out!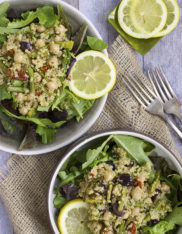 Spring Quinoa Salad
Ingredients:
Salad
1 cup uncooked quinoa (make sure you rinse it well if your quinoa is not pre-rinsed)
1 1/2 cups water
Pinch of salt
1 bunch asparagus, trimmed
2 tbsp olive oil
1/3 cup kalamata olives, chopped
1/3 cup sundried tomatoes in oil, chopped
1 - 15 oz. can chickpeas, rinsed (if you use a slightly bigger can that's not a problem)
Lemon Basil Dressing
1/4 cup fresh lemon juice
1/4 cup olive oil
2 tbsp honey
1 clove garlic, finely chopped
2 tbsp fresh basil, finely chopped
Salt and pepper to taste
Directions:
Place the quinoa, water and pinch of salt in a small pot and bring to a boil then cover and reduce to a simmer for 15 minutes or until the liquid is absorbed - once it's done, fluff it with a fork and then put the lid back on and let it sit off the heat while you finish prepping the salad.
Whisk together the dressing ingredients and let it sit while you continue prepping everything else. If you really feel like whipping out your mini food processor or blender, you could place all of the ingredients in there and pulse to combine - but I don't think it's necessary.
Preheat the oven to 450°F and place the trimmed asparagus on a parchment paper lined baking sheet. Toss the asparagus with 2 tbsp of olive oil and season with salt and pepper. Roast for 15 minutes. Let the asparagus cool and then cut it into 1" pieces.
Combine the cooked quinoa, roasted asparagus, olives, sundried tomatoes, chickpeas and basil in a medium bowl. Pour the lemon basil dressing over the warm salad and mix well.
Taste the salad to see if it needs any more salt or pepper - if it seems to acidic you can add some olive oil a tbsp at a time. At this point, I like to let it chill in the fridge for at least an hour to allow the flavors to combine but if you want to eat it warm, it's delicious that way as well!