Chocolate Peanut Butter Pie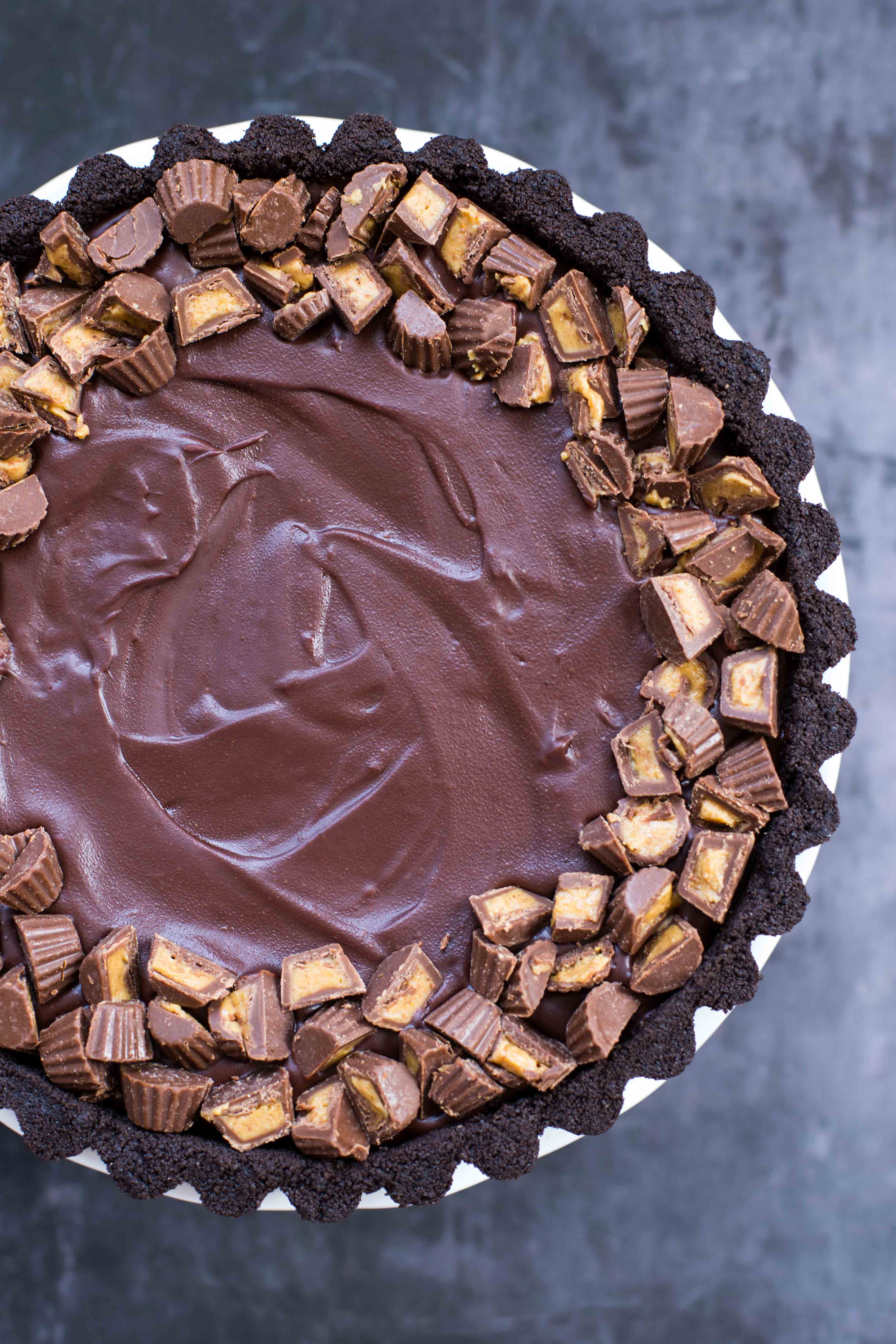 If there is a peanut butter lover in your life – this pie is for them. If you happen to be a peanut butter lover, well, then you know what you're making yourself this weekend. This pie is like the ultimate peanut butter cup from heaven. An oreo crust with a silky peanut butter filling and obviously topped with more chocolate, because – why not?!
I'm not a huge peanut butter fan – BUT – I do love this pie frozen. Don't ask me why. It's a consistency thing…


I found this recipe a few years ago on the blog Kevin & Amanda and I've been making it for my sister's birthday ever since. There are very few ingredients involved in this Chocolate Peanut Butter Pie, which is also a plus. And you can make it ahead and freeze it until you're ready for it. When I've made this pie, I've frozen it and taken it out ahead of time and let it defrost a bit and then put it in the fridge to stay firm until it's time to serve it.
I hope you find some sort of excuse to make this pie – and it being the weekend is a good enough reason for me. Happy almost Friday!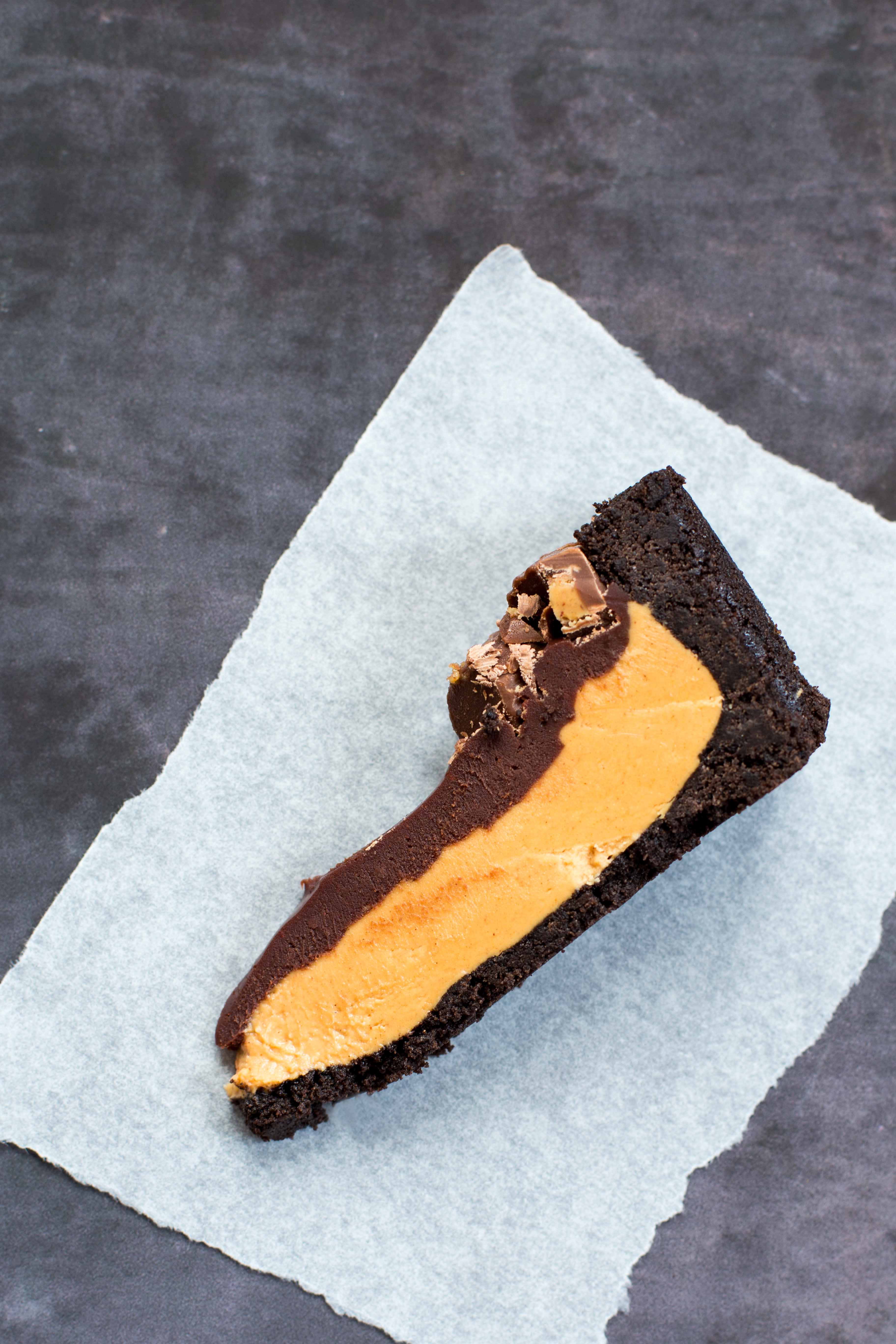 Chocolate Peanut Butter Pie
Ingredients:
1 package (14.3 oz) of whole Oreos (36 Oreos)
1/2 cup (8 tbsp) unsalted butter, melted
1/2 cup (8 tbsp) unsalted butter, softened
1 1/2 cups + 2 tbsp creamy peanut butter, divided use
1 cup confectioners sugar
1 cup semisweet chocolate chips
1/2 cup heavy whipping cream
1 (8 oz) package Mini Reese's Peanut Butter Cups, chopped, for topping/decorating
Directions:
Place all of the Oreos in a food processor and finely crush (alternatively, you can crush them in a Ziplock bag).

Add the melted butter to the crushed Oreos and stir to combine.

Press the Oreos crumbs in to the bottom and up the sides of a pie dish or tart pan.  Use the flat bottom of a cup (I like to use my measuring cup) to smooth out the the bottom and edges of the crust.  Place the crust in the freezer for 10 minutes while you make the filling.   

Add the 8 tbsp softened butter, 1 1/2 cups peanut butter and confectioners sugar to a large bowl (or the bowl of a stand mixer) and beat on low until it's creamy and smooth.  

Once it's set, take the crust out of the freezer and fill with the peanut butter filling - make sure the peanut butter layer is smooth and even.

Place the chocolate chips and remaining 2 tbsp of peanut butter in a heatproof bowl.  In a small saucepan, heat the heavy cream over medium-high heat until it comes to a rolling simmer.  Pour the hot cream over the chocolate chips and peanut butter and let stand for 5 minutes; then whisk until it's completely smooth.  

Pour the chocolate ganache over the peanut butter layer and smooth it out with the back of a spatula.  Decorate as desired or with the chopped up mini Reese's Peanut Butter Cups.

Place in the fridge, covered, to set for at least 1 hour if you're serving that day.  If serving on another day, let it set in the freezer for 1/2 hour.  Once it's firm, wrap it up well with plastic wrap until you're ready to serve.  On the day you're serving, defrost the cake and put it in the fridge until you're ready to serve.