Airport Cake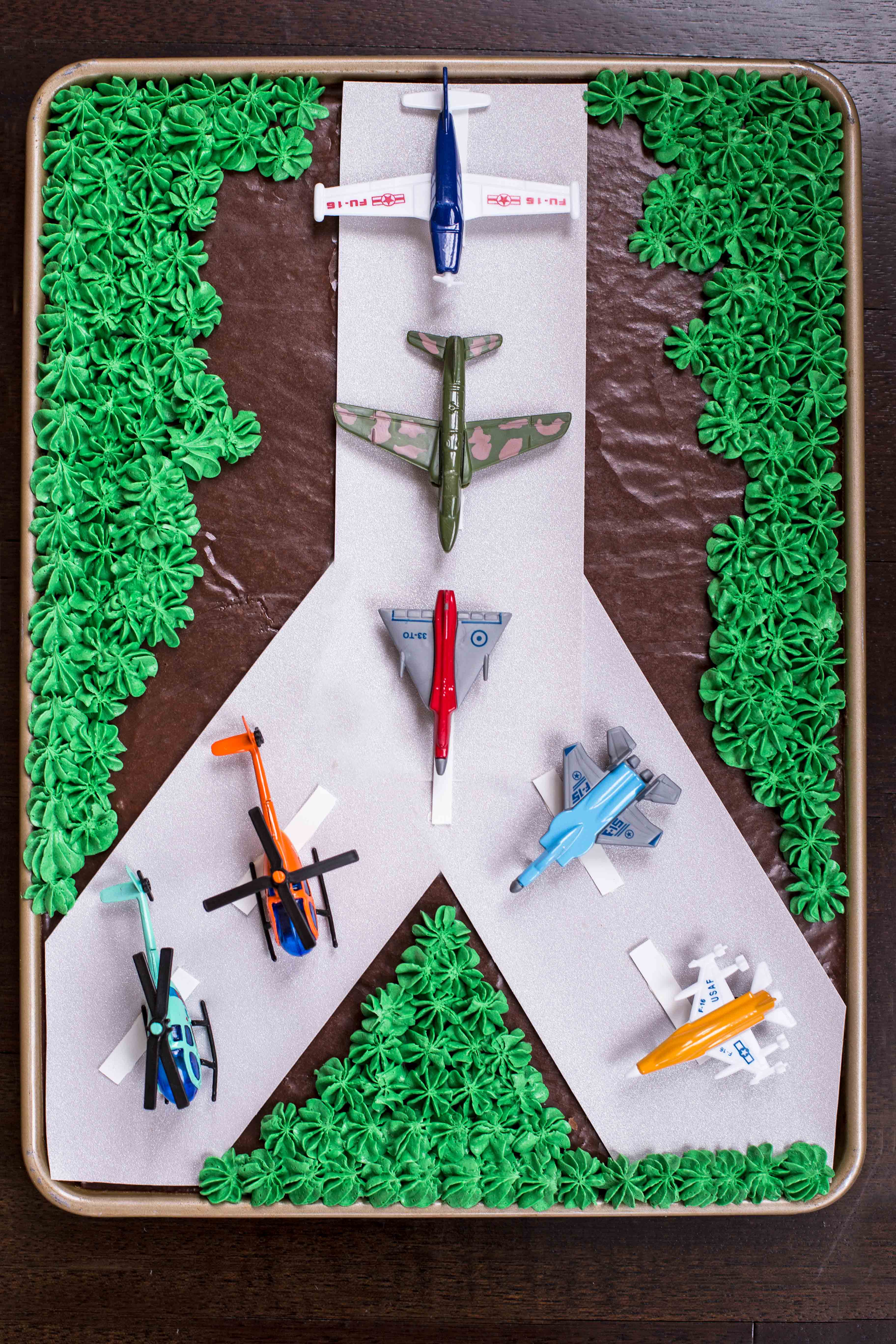 If there's a little one in your life that loves airplanes – this cake is for them!  My middle child, Henry, turned 4 this year and he is OBSESSED with all airplanes.  When I asked what kind of cake he wanted for his birthday it a was a no-brainer – "I want an airport, Mom."  Sure thing – an airport!  That's an easy cake to make…..???  So, we went the easy route, i.e. incorporate toys that they want and – Bingo – the Airport Cake is a hit.
I used the recipe for this really easy Chocolate Sheet Cake that is super moist and just full of quintessential classic sheet cake deliciousness.  It's also a plus that it's a fuss-free, easy recipe.  As far as decorating goes, I bought these Wilton Sugar Sheets on Amazon in silver and white (you could also make your own fondant or buy pre-made fondant).  The sugar sheets were really easy to work with and I literally used a paper cutter to cut them into the sizes I needed.  Next, the frosting.  I just made a batch of my favorite whipped vanilla buttercream, dyed it green and used a star tip to make the "grass".  Lastly, and most importantly, the airplanes.  I also bought these airplanes on Amazon – they were small and lightweight and came in a bunch of different colors and styles. What would we all do without AMAZON?? Seriously. It's a lifeline, I may or may not have a problem.
In other news, things have been quiet around here because we just got back from vacation and school is officially out for summer – the end of the year was just busy and full of craziness. AND, I'm working on a new and exciting project! I will share more with you once it develops but the project is a dream of mine that I'm pursuing and also incorporates the blog, so I'm really excited about it. I promise to get back to more regular posting now that the kids are out of school and will be home full time… 😬🙄 I really will try, haha.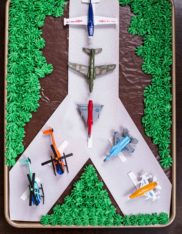 Airport Cake
Ingredients:
Directions:
Follow the full recipe for the Chocolate Sheet Cake.
Make a batch of the whipped vanilla buttercream that is in the recipe for Funfetti Cupcakes and add green gel food coloring until you've reached the desired color green.
Cut the silver and white sugar sheets (or fondant) into rectangles to create your runway. Use a little bit of frosting to stick the sugar sheets to the cake and the white strips to the runway.
Using the star tip, make little dots of frosting around the runway to create the grass.
Place the airplanes on the runway and you're ready to go!